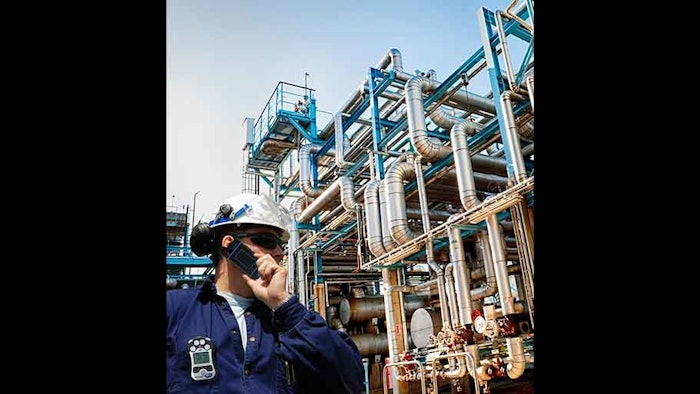 HOUSTON — Honeywell recently announced a new solution for real-time safety monitoring of workers in plant and remote operations. Honeywell Connected Plant Skills Insight Personal Gas Safety helps to protect lives and enable faster response in case of hazardous leaks or worker injury.
The solution's wearable gas detectors monitor gas, radiation and dust, and are tightly integrated with Honeywell's distributed control system, Experion Process Knowledge System (PKS). In case of harmful exposures, man-down or panic alarms of workers in the field, accurate, automated alarms now alert control room operators in real time. In addition, safety teams can take advantage of powerful tools embedded in Experion PKS to provide detailed trending, reporting and data analysis of the gas detectors to further ensure safe operations.
 "Monitoring worker safety and ensuring proper response to emergencies are top priorities for industrial producers," said Adrian Fielding, marketing director, Integrated Protective Solutions for Honeywell Process Solutions (HPS). "Personal Gas Safety gives plant operators eyes and ears in the field to improve their situational awareness, helping avoid potentially life-threatening conditions while also providing workers with the assurance that help will be on the way quickly if they need it."
 Personal Gas Safety provides critical alarm reporting, sensor and calibration status, worker identification and location data from the wearable gas detectors. The detectors are equipped with a panic button for emergencies as well as a sensor for automatic man-down alerts. Critical alarms from detectors are displayed on control room monitors, showing the location and exposure status of personnel to enable faster and better coordinated response by operators.
"Because this safety solution is integrated into Experion PKS, plant operators can analyze the data to take proactive steps to improve safety," said Tony Downes, global process safety advisor, HPS. "They can identify and stop trace gas leaks, flag non-compliant or malfunctioning gas monitors for removal from the field, and more quickly generate safety reports for regulatory compliance as well as help reduce maintenance costs. With Personal Gas Safety people competency now links directly to the performance of the plant, resulting in better productivity and safety."
Personal Gas Safety can be tailored to specific work environments and risks through customized alerts and notifications by email or text message. The solution also helps users identify hazardous areas and isolated gas leaks, enhance industrial hygiene analysis and predictions, and improve post-incident evaluation. The offering will be available to customers across oil & gas, petrochemicals, refining, pulp & paper and a range of other industries. 
Personal Gas Safety is part of Honeywell Connected Plant, which turns data into insight that enable plants and businesses to run better. Honeywell delivers this capability through its unmatched domain expertise and advanced analytics capabilities to connect process, assets, people and enterprise to maximize performance. Honeywell's breadth of cyber-security solutions ensures data stays secure from increasing external threats.