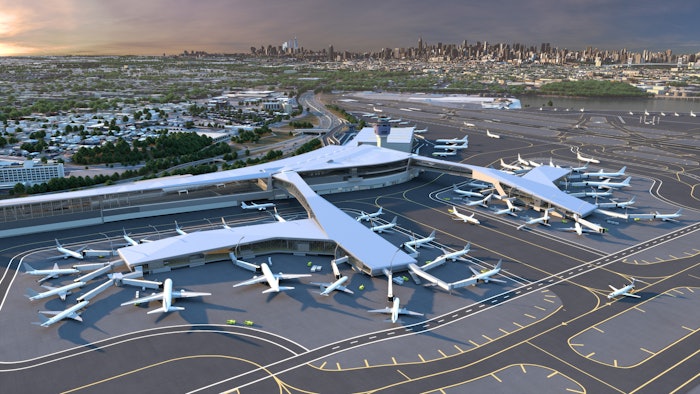 NEW YORK — Siemens is working with Skanska Walsh Joint Venture, the design-build contractors for the redevelopment of Central Terminal B at LaGuardia Airport, to deploy a Siemens Intelligent Infrastructure Solution that includes an integrated building automation and fire/life safety system in the new central terminal complex at LaGuardia International Airport. As part of New York Governor Cuomo's continuing redevelopment of LaGuardia International Airport, the new central terminal complex is designed to completely transform the airport into a world-class transportation hub that will more easily serve the tens of millions of travelers that pass through the airport each year.
The new terminal will be more efficient and safer than its predecessor, which was originally built in 1964. Siemens' Desigo CC integrated building management system will control and monitor the building automation, allowing for dynamic control of the facility's systems in order to react to the changing needs of the terminal's operations. In addition, the Desigo Fire XLS-V fire alarm panel with voice capability will be at the heart of the fire alarm system, operating both in the terminal and the central plant.
"We're extremely proud to play such a key role in achieving Governor Cuomo's vision for a new and modernized LaGuardia airport — and in helping create the perfect place to travel efficiently and safely," says Dave Hopping, President of Siemens' North American-based Building Technologies Division. "Our open platform integrated building management system will provide smart building command, control, and communication by connecting building systems including HVAC, fire, energy metering and lighting."
The new complex will be located closer to the existing Grand Central Parkway, freeing up valuable tarmac space for planes. It will also utilize an island-gate system, which will create nearly two miles of additional taxiways and lead to fewer gate delays and less carbon emissions from idling planes.
"The vision for the new terminal includes an enriched passenger experience by reducing gate delays and moving all passengers more safely and efficiently throughout the airport," says Ted Jadermark, Airport System Manager with Skanska Walsh Joint Venture. "Integrating Siemens building automation and fire safety systems as we build the new facility gives us the ability to manage and monitor its dynamic daily operations with the increased confidence necessary to protect the comfort and safety of LaGuardia's travelers and, at the same time, reduce emissions."