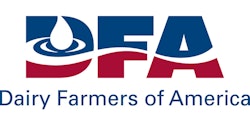 KANSAS CITY, Kan. (March 5, 2018) — Dairy Farmers of America (DFA), a national cooperative owned by family farmers, and Sprint on Monday announced the companies selected for the 2018 Accelerator program, which includes startups focused on ag tech and dairy food products. For the 2018 program, DFA also will be joined by CoBank, a cooperative bank serving vital industries across rural America, as a supporting partner.
"We've found tremendous value in this program and leveraging innovation that's happening with startup companies in the ag tech space," said Kevin Strathman, senior vice president of finance at DFA. "For year two, we're focused not only on building partnerships that can help solve problems and benefit our members on their farms, but it's also exciting to add dairy food startups into the mix. We're looking forward to working with these companies to help grow their businesses and ultimately drive consumer demand for dairy."
The Accelerator is a 90-day, immersive program, which launched Monday and continues through June. Startups will work directly with leaders from Sprint, DFA and CoBank as well as other industry experts and mentors. This year's participants come from cities around the U.S. and Canada and are working to develop both hardware and software-based solutions.
The Ag Tech and Dairy Food Product companies selected in the 2018 Accelerator are:
Pharm Robotics from San Jacinto, Calif. Pharm Robotics is developing robotic systems to automate the administration of animal health products in dairy cows.
Ripe Technologies from San Francisco, Calif. Ripe is transforming the food supply chain using blockchain technology to enable data transparency, so we know where our food is from and what has happened to it.
SomaDetect from Fredericton, Canada. SomaDetect is a precision-dairy company that is creating an in-line system for measuring every compound of interest in raw milk, including fat, protein, somatic cells, progesterone and trace antibiotics. 
Cheddies from San Antonio, Texas. Cheddies aims to provide all consumers with a cheese cracker that has added nutritional benefits. These benefits include 10 grams of protein, 12 grams of carbohydrates, no artificial flavors or colors and 0 grams of sugar.
MoPro Nutrition from Birmingham, Mich. MoPro is the first Greek yogurt infused with CFM Whey Protein Isolate that contains 24 grams of protein per serving and is low in sugar.
Too Cool Chix from New York, N.Y. Too Cool Chix creates delicious, all-natural ice cream sandwiches free of artificial ingredients and stabilizing gums.
As a sponsor for the Accelerator, DFA will provide mentorship, connections and resources to help accelerate the growth of the ag tech and dairy food product startups selected. Features of the 90-day program include:
Targeted, strategic meetings with the corporate partner teams to discuss business development, pilots and potential sponsorships;
Mentoring from DFA senior staff and their networks, as well as from the investor, business development and entrepreneurial communities;
Business building sessions around product, brand, marketing and entrepreneurship;
State-of-the-art workspace facilities provided at Sprint Accelerator in Kansas City's Crossroads Arts District.
Dairy Farmers of America (DFA) is a national dairy marketing cooperative that serves and is owned by more than 13,000 members on nearly 8,000 farms in 48 states. DFA also is one of the country's most diversified manufacturers of dairy products, food components and ingredients, and is a leader in formulating and packaging shelf-stable dairy products. For more information, call 1-888-DFA-MILK (332-6455) or visit dfamilk.com.