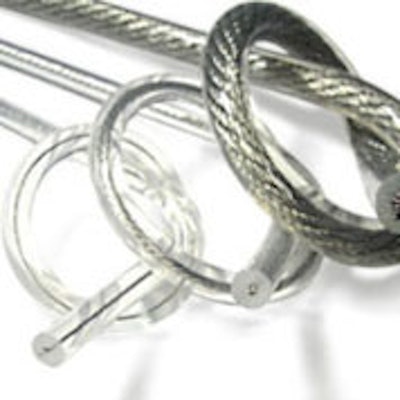 Rated for voltages up to 42,000 Volts DC, Cicoil High Flex — High Voltage Silicone Wire is durable, flame retardant (UL 94V-0), free of halogens and performs exceptionally well in extreme temperature conditions (-65°C to +260°C). According to the company:
This combination of features makes the ultra-flexible silicone wire the ideal choice for just about any application.

The company's exclusive crystal-clear silicone encapsulation is tear-resistant, needs no external "armor" or conduit for protection, and will not deform or wear during a lifetime of more than 10 million cycles, even under tight bending radius and high-speed flexing conditions.

The unique silicone-extruded wire is unaffected when exposed to extreme vibration, water, UV light, weld spark, ozone, radiation, mechanical abuse and most chemicals.

It is UL-Recognized, RoHS Compliant and CE-Conforming and is manufactured in an automated, climate controlled environment — it also exceeds the NASA 1124 outgassing specifications for space use and vacuum requirements.

It is 100-percent contaminant-free and rated for Class 1 clean room use.

Standard "off the shelf" wire is available from stock in continuous lengths, cut to order, or as assemblies — complete with lugs or connectors of your choice and 100-percent inspected.

In addition, the company offers anti-friction, low smoke-zero halogen, custom colors and lower/higher voltage designs by request.