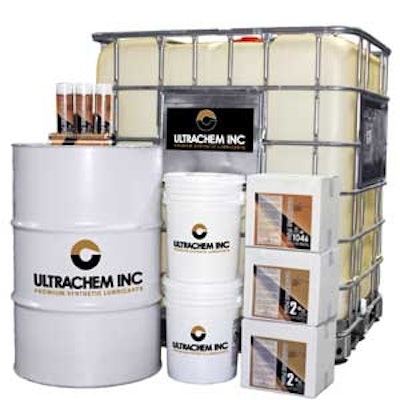 Ultrachem has developed a new line of Omnilube® food-grade rotary screw and reciprocating air compressor lubricants with improved wear, oxidation and lubricity vs. currently available H-1 food-grade synthetic lubricants. According to the company, Omnilube 32/46, 68 and 455 further grant:
Field tests that have shown these lubricants outlast other synthetic H-1 lubricants by 50 to 100 percent.
Formulation from high-quality polyalphaolefin base oils with a proprietary additive package to achieve long life.
Less varnish formation, low pour point/high flash point, and optimal compatibility with elastomers, seals, plastics and paints.
Compliance with USDA and FDA H-1 regulations, 21 CFR 178.3570, and NSF requirements, in addition to approval by the Orthodox Union for kosher use.
Accommations for use in meat, poultry and food processing (H-1) plants.
Suitability for rotary screw compressors (Omnilube® 32/46 and 68) and, depending on the design, a service life of up to 8,000 hours in good operating conditions, whereas Omnilube® 455 is designed for reciprocating compressors.