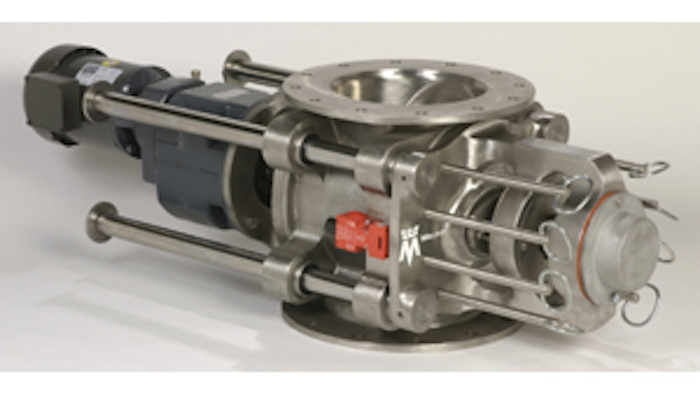 Wm. W. Meyer & Sons recently unveiled its Klean-in-Place® rotary airlock feeder as a special-purpose valve with 4 slide bar supports (which use linear bearings) to provide maximum support of the rotor while it's pulled out. The Klean-In-Place also boasts:
A built-in device that automatically reestablishes the close dimensional tolerances between the rotor and housing, and a safety interlock switch.
The ability to be thoroughly cleaned, sanitized and inspected in a short time
No tools required — simply remove the head plate, which is attached to the valve housing, with easily unscrewed release handles.
Accommodations for batch systems demanding regular cleaning between cycles, as well as when frequent cleaning and sanitary service is required to prevent product contamination.
Suitability for dairy, pharmaceutical, food, baking, chemical, paint and powder-coating plants.
Availability with square or round flanges, standard airlock options, and USDA and sanitary construction.
Compliance with 3A sanitary standards.