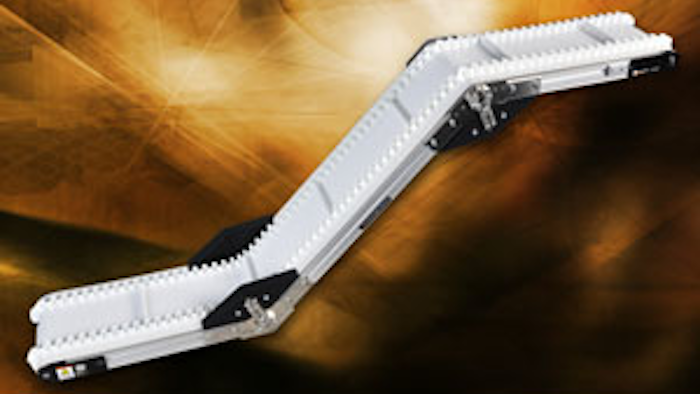 QC Industries recently launched its Automation Series AS40Z angled-frame conveyors to enable elevation changes that aren't possible with a flat conveyor. According to the company, these conveyors are further characterized by:
The power to carry loads up to 120 pounds and move at speeds up to 200 FPM.
Resistance to twisting, which is a leading cause of belt tracking issues.
Tension release tails that flip up at the push of a button, then click back into place with all tracking adjustments retained, to allow easy under-belt cleaning.
Reduced torque requirements, which allows the use of smaller motors than other angled-frame conveyors, letting them fit into spaces other conveyors cannot.
Widths from 8 to 24 inches, lengths up to 20 feet and a 1.95-inch (H) aluminum frame.
3 different configurations for any elevating or lowering application — the L transitions from horizontal to inclined, the R is inclined to horizontal, while the Z is horizontal to inclined to horizontal.
Availability of the most popular angles — 30°, 45° and 60° — whereas others are available as special orders.
A wide variety of belt options, including those with cleats and corrugated sidewalls that help keep product contained on the belt.
Optional V-guide belts to assist in tracking, especially in hard-to-reach applications.