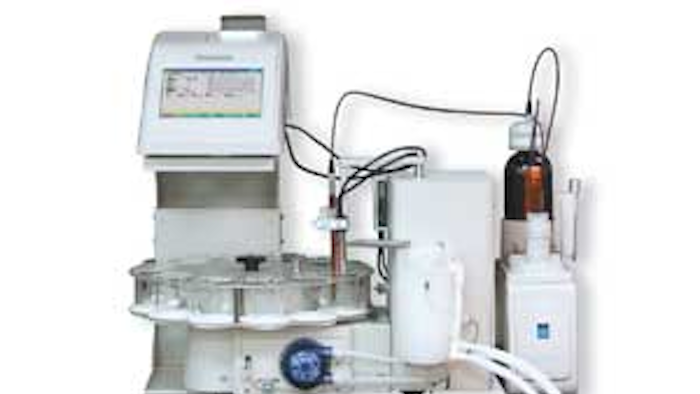 JM?Science's Potentiometric Titrator (COM-1700) can run four titrations and stirrers that easily allow the end user to do different types of titration — including potentiometric, photometric, polarization and conductometric titrations — in parallel. According to the company, the titrator is characterized by:
Configuring multiple titration stations with an automatic sample changer is also available.

Reliable, high-speed communications with no response time lag — results appear in real-time.

Compact design reduces bench space by 25 percent.

New buret design allows automatic reagent exchange quickly and efficiently; buret standard size is 20mL and optional buret sizes 1, 5, 10 and 50mL are available, and each titration station can control up to 10 burets.

Longer-life syringe with top dead-center rest position with minimized dead-space and buret head position sensor eliminates improper assembly.

The new sample changer accommodates a wide selection of test tubes, beakers and conical flasks.

The model is upgraded and enhanced with the adaptation of a large size, color touch-panel screen, allowing for easy monitoring of any station and providing for real-time pH calibration and stability.

Reading, recalculation and redetection of titration results and use of data by using other application software is possible by simply downloading the data to a laptop or PC for storage or processing; data may then be exported to any of several types of file formats including Excel, CSV, HTML, etc.

A built-in thermal printer with easy paper-loading features is included.