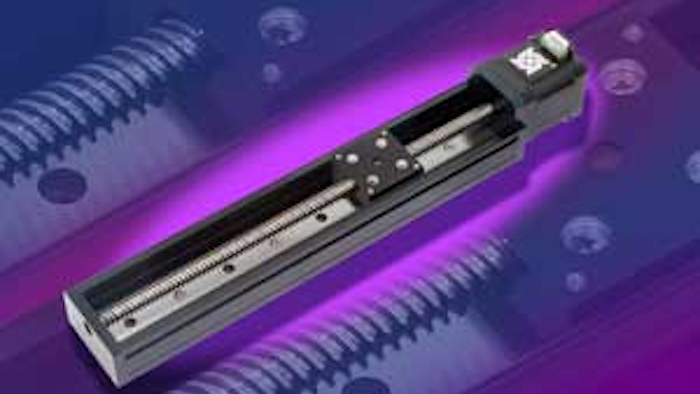 The perfect example of Haydon Kerk's customization capabilities in meeting its customer's unique engineering requirements is a precision linear rail system developed for an application requiring very high stiffness, accuracy and repeatability. According to the company, the customized system is characterized by:
Along the axial length of the system is a precision recirculating ball rail capable of extremely high-load capacity and high rigidity.

The extruded aluminum frame supports all the components for the system.

In this particular design, the drive mechanism is a Haydon™ stepper motor and a precision rolled 303 stainless steel Kerk® lead screw.

 

Attached to both the lead screw and the precision ball rail is a machined aluminum load carriage with an integral Delrin drive nut.

 

The design of the rail mechanics allows a maximum load of 353 lbs (1570N) in the 'Z' direction while still maintaining accuracy specs.

 

Maximum roll, pitch, and yaw specs are 200 in-lbs (22.65 Nm), 132 in-lbs (13.9 Nm), and 132 in-lbs (13.9 Nm) respectively.

 

The system was designed around a 3/8-inch (9.5mm) diameter lead screw with standard available leads of 0.025 inch (0.64mm) to 1.500 inches (38.10mm).

When combined with a 1.8-degree hybrid stepping motor, very fine positioning resolutions can be configured.

 

A brush or brushless DC motor also can be used for applications requiring higher speed and higher linear force output.