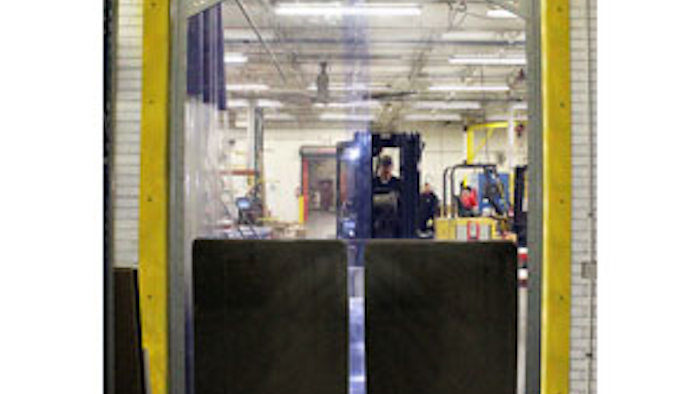 Over time, excessive workflow can damage a building's infrastructure, especially its doors and passageways. To accommodate these workflows, TMI, LLC has developed its most rugged and durable swinging door ever, the Mega-Pro Heavy Duty (HD).  According to the company, the door is:
Designed to handle the heaviest levels of forklift and mechanized traffic, while effectively separating a building's environments and controlling temperatures, without impeding traffic flow.

 

Characterized by the toughness and durability of an impact door with the flexibility and ease-of-use found in a swinging door.

Designed for use in large warehouses, storage facilities and other areas with constant workflow and high-impact traffic.

Loaded with features that make it the ideal solution for facilities requiring a sturdy, reliable door.

Suitable for use in doorways up to 10 feet wide and 10 feet high.

Characterized by heavy-duty galvanized steel hardware that attaches to crystal-clear, 3/8 inch-thick industrial-grade PVC that is available in both regular and low-temperature grades.

 

Characterized by a spring-loaded design that ensures that the door opens and closes consistently and all door components are housed within a heavy-duty frame that prevents the infiltration of dust, debris and other contaminants.

Capable of reducing decibel ratings up to 35 dBA, creating a safer, more OSHA-compliant workplace.

Available with optional impact plates that provide even greater levels of durability.