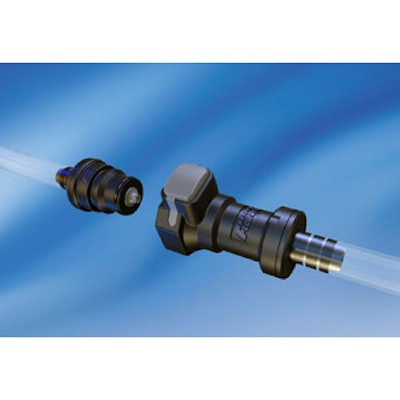 Flow-Rite Controls recently launched a line of quick-connect couplers for use in industrial, chemical and life science applications. According to the company, these couplers, which are capable of gamma sterilization, additionally grant:
Construction from high-grade UV-resistant polypropylene, non-swell Viton O-rings and stainless steel springs.
An ergonomic push-in button for hassle-free disconnection.

Resistance to corrosion and acidic degradation.
A high flow rate when compared to competitive couplers.
A pressure range from 0 to 100 PSI and a temperature range of freezing to 160°F (71°C).

Your choice of valved or straight-through versions, as well as multiple barbed and threaded terminations.
Compatibility with CPC® HFC12, HFC35 and HFC57 couplers.

Exclusive keyed connection options for error proofing.

Availability of private labeling and custom colors.