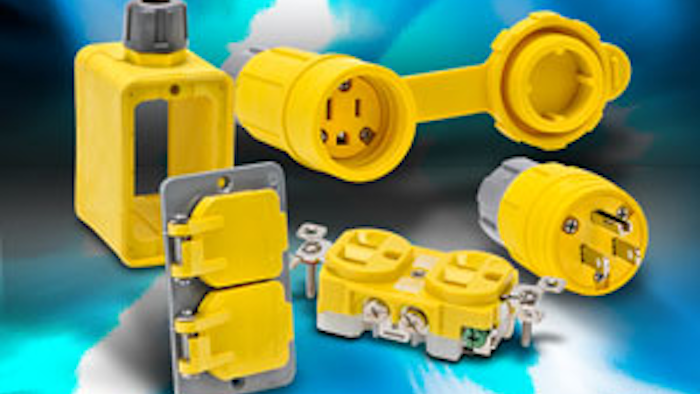 Bryant industrial-grade duplex straight blade receptacles from Automation Direct feature a full-face, wrap-around design molded of high-impact chemical-resistant nylon. According to the company, features include:
Available in 15A and 20A versions, the receptacles are designed with a one-piece copper alloy grounding system with integral solid brass grounding contacts.
Eight wiring pockets provide convenient feed-through back wiring and clamp-type terminals with brass terminal screws, and accept up to #10 wire; easy-access break-off tabs support two-circuit wiring. 
Available in gray or corrosion-resistant high-visibility yellow nylon, receptacles also feature a circuit ID marking area for clear identification of circuits.
Two-pole and three-pole watertight plugs and connectors have also been added.
Recommended where moisture exists or casual submersion is possible, the plugs are constructed with high-visibility yellow double-insulated thermoplastic elastomer housings.
A tongue and groove plug-to-connector design provides optimum protection in wet and damp locations.
The 15A and 20A connectors accept multiple cord diameters from #18/3 to #10/3; 30A models accept #8/4 cord.
Weather-protective accessories have also been added, including NEMA 1 non-conductive, impact-resistant thermoplastic elastomer portable outlet boxes, dual-receptacle covers and blank box cover plates.