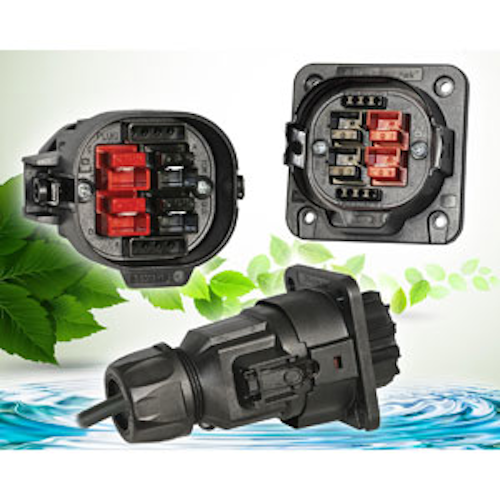 Anderson Power Products' SPEC Pak® family of environmentally sealed connectors now includes Mid-Power SPEC Pak®. The company says that Mid-Power SPEC Pak® offers:
Rugged and environmentally sealed (IP68) design that leverages the company's core Powerpole® flat wiping contact technology.

Power handling capabilities up to 80 amps at 600 volts, AC or DC, with signal.

This interconnect will accept up to four power contacts ranging in size from 12 to 6 AWG (3.3 to 13.3 mm²) and up to eight auxiliary contacts ranging in size from 24 to 12 AWG ( 0.25 to 13.3 mm²).

A weatherability rating of F1 and flame-resistance rating of V-0.

 

The wire-to-wire and wire-to-panel configurations feature a metal latch to prevent accidental un-mating.

They will accommodate up to four Powerpole® housings, including power contacts — housings are available in a wide array of colors, providing color coding options for ease assembly.
customerservice@andersonpower.com