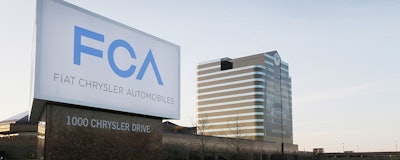 MILAN (AP) — Fiat Chrysler Automobiles has announced the sale of its auto components division to Japanese automotive component supplier Calsoni Kansei Corporation in a deal valued at 6.2 billion euros ($7 billion).
FCA said Monday that the Magneti Marelli sale would create the world's seventh-largest components maker with greater geographical reach, scale and financial strength, encompassing 200 facilities in Europe, Japan, the Americas and Asia Pacific. The statement said new entity will be called Magneti Marelli CK Holdings, and would build on the strength of the companies' complementary product lines.
FCA CEO Mike Manley said Magneti Marelli would remain one of Fiat Chrysler's most important business partners.
The spinoff of Magneti Marelli had been long planned, as part of late CEO Sergio Marchionne's strategy to unlock shareholder value.