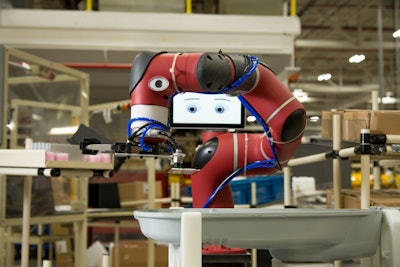 Rethink Robotics has been in full swing lately, with a steady presence at trade shows and marketing pushes aplenty. That is part of why it was such a surprise in the industry when the company announced it was closing on Wednesday.
Rethink Robotics produced two robots—the "Baxter" and "Sawyer" cobots (collaborative robots)—as well as accessories and a software platform. These robots use expressive 'faces' on screens to interact with human operators and co-workers. According to The Boston Globe, the company was struggling with sales and planned to sell the entire operation to another company, when that sale fell through.
The closure means that 91 employees will be let go, and Rethink's intellectual property and patent portfolio will be up for sale. Rethink Robotics was based in Boston, Massachusetts.
"We got out a little early with a very, very innovative product, and unfortunately did not get the commercial success that we expected to get," said CEO Scott Eckert in an interview with the Globe.
Jeff Burnstein, president of the Association for Advancing Automation, told the Boston Globe that Rethink faced tough competition from Danish robotics company Universal Robots, which also sells collaborative robots.
"They've done a really good job of building out their ecosystem . . . there's a lot of these companies who've said we want to develop products specifically with Universal," Burnstein said, according to the Globe.
In a 2016 interview with GE Reports, Rethink Robotics founder Rodney Brooks framed cobots as support for, not a replacement for, human workers. "The robot can't do everything a person can do — just like an electric drill doesn't replace a contractor. Robots aren't dexterous. They can only do certain things, and they're letting the person do the more cognitive parts.
"We're undervaluing workers when we say that robots are replacing them. We're undervaluing an ordinary person's intelligence."
Brooks also co-founded iRobot, the company behind the Roomba vacuum.