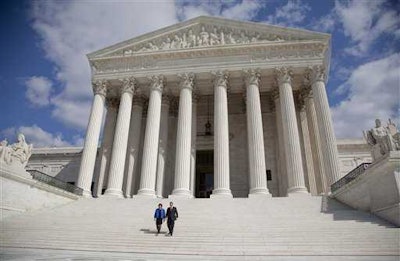 WASHINGTON (AP) -- The Obama administration is facing off at the Supreme Court with industry groups and Republican-led states over a small but important program aimed at limiting power-plant and factory emissions of gases blamed for global warming.
The justices are hearing arguments Monday in a challenge to a regulation that forces companies that want to expand facilities or build new ones that would increase overall pollution to evaluate ways to reduce the carbon they release. Carbon dioxide is the chief greenhouse gas.
The case comes to the court as President Barack Obama is stepping up his use of executive authority to act on environmental and other matters when Congress doesn't, or won't. Opponents of the Environmental Protection Agency's program at issue call it a power grab of historic proportions.
Republicans have objected strenuously to the administration's decision to push ahead with the regulations after Congress failed to pass climate legislation, and after the administration of President George W. Bush resisted such steps. Both sides agree that it would have been better to deal with climate change through legislation.
In 2012, a three-judge panel of the U.S. Court of Appeals for the District of Columbia Circuit concluded that the EPA was "unambiguously correct" in using existing federal law to address global warming.
Monday's case stems from the high court's 2007 ruling in Massachusetts v. EPA, which said the agency has the authority under the Clean Air Act to limit emissions of greenhouse gases from vehicles.
Two years later, with Obama in office, the EPA concluded that the release of carbon dioxide and other heat-trapping gases endangered human health and welfare. The administration used that finding to extend its regulatory reach beyond automobiles and develop national standards for large stationary sources. Of those, electric plants are the largest source of emissions.
The administration has proposed first-time national standards for new power plants and expects to propose regulations for existing plants this summer. It will then move on to other large stationary sources such as factories.
In the meantime, the only way EPA can compel companies to address global warming pollution is through a permitting program that requires them to analyze the best available technologies to reduce carbon dioxide, the chief greenhouse gas.
The utility industry, the U.S. Chamber of Commerce and 13 states led by Texas are asking the court to rule that the EPA overstepped its authority by trying to regulate greenhouse gas emissions through the permitting program.
In addition to environmental groups, New York, California, Illinois and a dozen other states are supporting the administration, along with the American Thoracic Society, which filed a brief detailing the health costs of climate change.
---
More from MBTMag.com
Mexico To Trump Japan As No. 2 Car Exporter To U.S.
FDA Tells Company To Stop Sale Of Tobacco Products
Say Hello To Project Tango
Explore more news

here

.