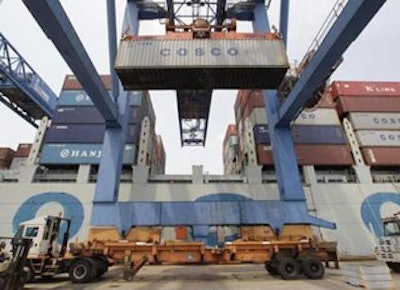 WASHINGTON (AP) — The U.S. trade deficit widened sharply in July from a four-year low in June, as companies exported fewer goods and imported a record number of foreign-made autos. The larger trade deficit could dampen economic growth in the current July-September quarter.
The Commerce Department says the trade gap rose 13 percent to $39.1 billion. That's up from June's $34.5 billion, the smallest since 2009.
Imports increased 1.6 percent to $228.6 billion, as oil and auto shipments rose. Exports slipped 0.6 percent to $189.4 billion, down from a record high in June.
June's lower deficit helped boost overall economic growth to a 2.5 percent annual in the April-June quarter. A wider deficit could hold back third-quarter growth because it means companies are selling fewer goods overseas while importing more foreign-made products.
---
More from MBTMag.com
Microsoft Buying Nokia Phones, Patents For $7.2B
Hackers Find Weaknesses In Car Computer Systems
Japan To Fund Ice Wall To Stop Reactor Leaks
Explore more news
here
.