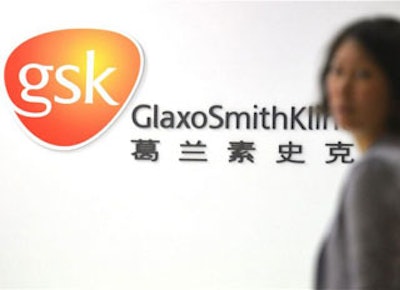 BEIJING (AP) -- Foreign companies believe they are unfairly being singled out for scrutiny in bribery and pricing investigations, the biggest European business group in China said Thursday.
The comments by officials of the European Chamber of Commerce in China follow announcements about fines imposed on dairy suppliers over pricing issues and an investigation into possibly bribery by employees of drug manufacturers GlaxoSmithKline and Sanofi.
In pricing investigations, the chamber's member companies believe "there is a disproportion of how foreign companies are covered on this issue" compared with Chinese rivals, said its president, Davide Cucino. He said foreign companies also believe accusations against them receive more prominent publicity from state-controlled media.
Cucino was speaking at the release of a report by the chamber, which represents 1,700 companies in China, on business conditions and suggestions for regulatory changes. This year's report appeals to Beijing to open government-dominated industries wider to private competition.
Officials of the chamber have met with Chinese authorities to discuss the pricing investigations, said Cucino. He said the chamber stressed that any action should be according to law but gave no other details of the meeting.
In the dairy case, six foreign suppliers were fined for vertical price-fixing, or setting minimum retail prices for baby formula. Such a tactic is common in foreign markets but lawyers say the anti-monopoly law prohibits it.
A spokesman for the Cabinet's planning agency was quoted by Chinese media on Aug. 16 as saying it would look into possible anti-monopoly violations in petroleum, telecommunications, autos and banking.
Drug manufacturers have been rattled by investigations into whether Britain-based GlaxoSmithKline PLC and French rival Sanofi SA bribed doctors to prescribe their medications.
Investigations have targeted only foreign companies, including those with the strongest standard operating procedures, or SOPs, to prevent employee misconduct, said the president of the chamber's pharmaceutical working group, Bruno Gensberger.
"What I feel a little bit unfair, the foreign companies that are most serious about SOPs have been the most investigated and the most discriminated," said Gensberger. "To my knowledge, today no Chinese company has been investigated."
Authorities say they are investigating whether employees of GSK and Sanofi improperly paid doctors, hospital administrators and others to encourage use of its medications. GSK employees are accused of laundering money through travel agencies to evade its internal anti-bribery controls.
Such payments are widespread in China's medical system. Health experts say such bribery by Chinese drug companies is routine, while global suppliers are less likely to engage in it due to anti-corruption laws in their home countries.
---
More from MBTMag.com
U.S. Trade Deficit Widens In July
Automakers' Sales Up Double-Digits In August
Report Signals U.S. Manufacturing Getting Stronger
Explore more news

here

.