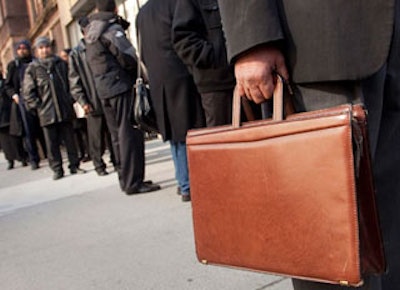 WASHINGTON (AP) -- The number of Americans seeking unemployment benefits dropped 9,000 last week to a seasonally adjusted 323,000, near the lowest level since June 2008. The figure shows that employers are laying off fewer and fewer workers.
The Labor Department says weekly applications are just 1,000 above a five-year low reached last month. The four week average, a less volatile measure, declined 3,000 to 328,500. That's the lowest point since October 2007.
The data come a day before the department will release the August jobs report. Economists expect it to show employers added 177,000 jobs, up from 162,000 in July. The unemployment rate is expected to remain 7.4 percent.
Applications are a proxy for layoffs. They have fallen 5 percent in the past two months, raising hopes that hiring could pick up.
---
More from MBTMag.com
U.S. Trade Deficit Widens In July
Automakers' Sales Up Double-Digits In August
Report Signals U.S. Manufacturing Getting Stronger
Explore more news
here
.