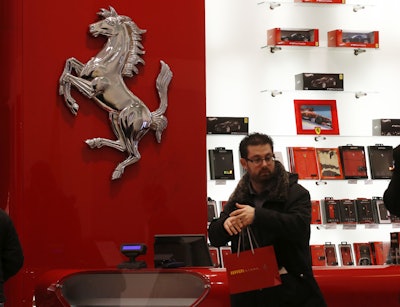 MILAN (AP) — Carmaker Fiat Chrysler is denying rumors that Italian luxury sports carmaker Ferrari SpA is considering moving its tax home out of Italy as part of a spinoff.
Fiat said in a statement Thursday that "these rumors have no grounds," and that Ferrari's activities "will continue to be subject to Italian tax jurisdiction."
Media reports that Ferrari was considering moving its tax home drew criticism from some Italian politicians, who fear a loss of revenue and prestige.
The newly merged Fiat Chrysler Automobiles has made Britain its tax home and the Netherlands its legal headquarters, the same structure as CNH Industrial, the construction and ag vehicle company that was previously a Fiat subsidiary.
Fiat Chrysler is spinning off Ferrari to fund its growth plans. A public listing is planned next year.
---
More from MBTMag.com
Japan Automakers Expand Passenger Air Bag Recalls
Oil Takes Another Dive On OPEC Report, U.S. Supplies
Explore more news
here
.