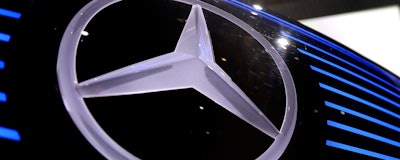 FRANKFURT, Germany (AP) — German automaker Daimler says it is moving toward implementing a new structure in which its Mercedes-Benz car division and truck and bus business would become legally independent entities under Daimler's overall roof.
The company said Monday that the changes would give the divisions the entrepreneurial flexibility to react to a rapidly changing business environment.
It said there were no plans to divest the divisions and that the new structure still needed approval from top management and the board of directors before it could take effect. The earliest final approval could come would be at the company's 2019 shareholder meeting.
Mercedes-Benz Cars and Vans and Daimler Trucks & Buses would then be like the company's financial services division, which already has a legally independent structure. All three would keep their registered offices in Germany.
Daimler AG's CEO, Dieter Zetsche, said in a statement that "whoever aims for sustainable competitiveness and profitability must continuously evolve and adapt to rapidly changing surroundings — technologically, culturally and also structurally."
Zetsche said the new structure would "make sure we are optimally prepared for the challenges in the new automotive era." He is also the head of Mercedes-Benz Cars in addition to his CEO title.
The truck and bus division includes truck brands Freightliner, part of the company's North American truck business headquartered in Portland, Oregon, Western Star and FUSO. It also makes Thomas Built school buses in High Point, North Carolina.
Major automakers are gearing up for what is expected to be a period of disruptive change spurred by digitalization and government pressure to reduce air pollution from car exhaust pipes. The new challenges facing the industry include the development of autonomous or driverless cars, a push to make lower-emission electric vehicles more attractive to consumers, and the use of digital technologies such as smartphone apps that, for instance, let consumers use autos only when they need one.
Daimler's new structure would also involve making a 3 billion euro ($3.5 billion) contribution to the Daimler AG pension fund. The company, based in Stuttgart, said it has agreed with employee representatives on extending job protections through the end of 2029, as well as extending Daimler's common profit-sharing bonuses. Those bonuses can be worth thousands of euros for workers in good years.
Daimler shares traded 0.7 percent higher at 68.35 euros after the announcement.