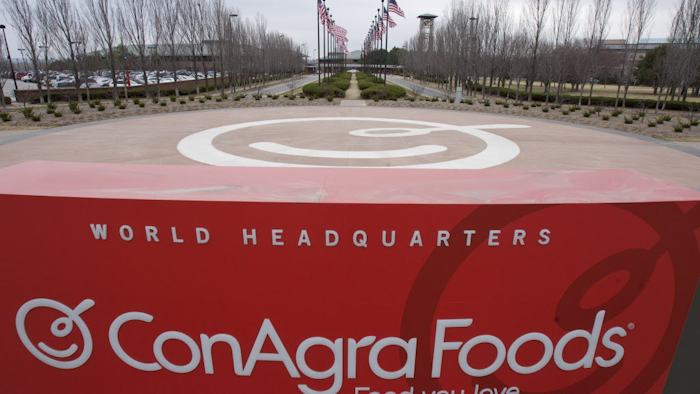 ConAgra Foods Inc. plans to sell its faltering business that makes store-brand packaged food just two years after spending $5 billion to beef it up by buying the private-label foodmaker Ralcorp.
The company said Tuesday that it wants to concentrate on improving business for its name brands, which include Chef Boyardee, Hebrew National hot dogs, Slim Jim meat sticks and others.
The company's shares rose $1.37, or 3.2 percent, to $44.80 in premarket trading.
"As I have intensely studied the situation in our private brands operations over the last few months, it has become clear that the time and energy the company is devoting to the Private Brands turnaround represent a suboptimal use of our resources," CEO Sean Connolly said in a statement.
The company has been under scrutiny by activist investor Jana Partners, which disclosed a 7.2 percent stake in ConAgra earlier this month. It said the company's results have been disappointing since it bought Ralcorp and threatened a proxy battle for seats on the ConAgra's board of directors.
At the time of the purchase, ConAgra had said that the Ralcorp acquisition would provide the company with a larger presence in the growing private label food segment. Then-CEO Gary Rodkin called it a "logical and exciting step" for the company in a statement before the acquisition.
On Tuesday, ConAgra also reported fourth-quarter earnings that met Wall Street expectations.
During the fourth quarter, the Omaha, Nebraska-based company reported profit of $209.2 million, or 48 cents per share, marking a swing to a profit compared with a year ago. Earnings adjusted for one-time gains and costs, were 59 cents per share.
The results met Wall Street expectations. The average estimate of seven analysts surveyed by Zacks Investment Research was also for earnings of 59 cents per share.
Revenue 3.7 percent to $4.1 billion in the period, falling short of Street forecasts. Four analysts surveyed by Zacks expected $4.14 billion.
ConAgra shares have increased 20 percent since the beginning of the year, while the Standard & Poor's 500 index has stayed nearly flat. The stock has increased 43 percent in the last 12 months.