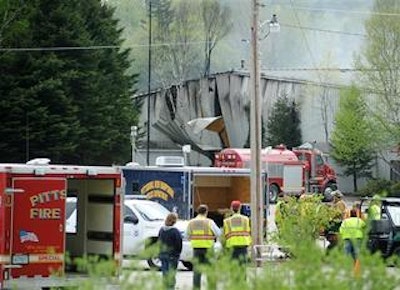 PORTLAND, Maine (AP) -- A Vermont man convicted for the 2010 explosion that killed two workers at a New Hampshire gunpowder plant is on trial for wire fraud connected to an ammunition company in Maine, but defense attorneys say he was trying to create jobs, not defraud the government.
Craig Sanborn — formerly of Maidstone, Vt. — was sentenced in November to 10 to 20 years in prison for the 2010 explosion that killed two workers at the Black Mag gunpowder plant in Colebrook, N.H.
Federal prosecutors say Sanborn submitted $300,000 worth of false invoices to Brownville, Maine, officials for materials and services he never purchased between November 2005 and January 2008. The money for Sanborn's X-Ring Industries ammunition plant at the site of an old rail terminal came from a federal Community Development Block Grant.
His attorneys said Monday that Sanborn did only what he promised — refurbish a building and bring a small business to Brownville.
"That's one of the primary enterprises he was involved in," defense attorney Mark Sisti said after Sanborn's trial began Monday in federal district court in Bangor. It continues Tuesday.
In October, Sanborn was convicted of two counts of negligent homicide and manslaughter in connection with the May 2010 explosion that killed Jesse Kennett, 49, and Donald Kendall, 56. Prosecutors argued that Sanborn was more concerned with rushing to fill a big contract than he was about worker safety.
The mid-day blast rattled buildings and sent plumes of black smoke into the air. Dozens of homes were evacuated, and firefighters couldn't get close to the burning site for several hours because ammunition was exploding
His lawyer countered at that trial that the explosion could have been accidental or due to negligence on the part of an employee. He tried to convince the jury that Sanborn couldn't be held responsible because he was out of state at a convention at the time of the blast. Sanborn is appealing those convictions.