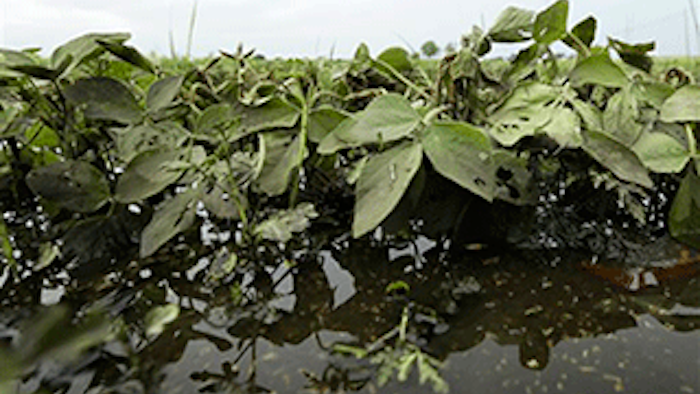 INDIANAPOLIS (AP) — This month's heavy rains and flooding across much of Indiana have already reduced the state's corn and soybean crop by nearly $300 million, agriculture experts estimated Friday, adding that the damage could escalate with more wet weather.
The projected harvest for both crops has dropped about 5 percent since the heavy rainfall began in early June, Purdue University agricultural economist Chris Hurt said.
But the damage isn't evenly spread. The worst is in northern Indiana, which has seen a foot or more of rainfall so far during June, leading to swamped farm fields. Lowland flooding continues along the Wabash and White rivers and some tributaries in southwestern Indiana.
More than a third of the fields in some counties are in bad shape, such as Adams County in northeastern Indiana, where the St. Marys River had significant flooding last week.
"We're just in the midst of this now," Hurt said. "We don't know how much total damage there will be."
Some of the financial losses from crop damage could be offset by higher per-bushel prices, government assistance programs and crop insurance, he said.
Indiana has had only four days this month during which it didn't rain somewhere in the state, and long-range forecasts project above-average rainfall for much of the Midwest through the summer, associate state climatologist Ken Scheeringa said.
This year's crop damage is still far short of what Indiana saw during the 2012 drought, which resulted in nearly $1.5 billion crop insurance payments, according to Hurt.
Counties must see a 30 percent production loss for at least one crop in order for farmers to qualify for federal disaster programs and low-interest loans, said Julia Wickard, state executive director of the federal Farm Service Agency.
Damage assessments are still being done across the state and it isn't clear whether any counties will be eligible for those programs, Wickard said. She urged any farmers with crop damage to report it to agriculture offices.
The recent rainfall has knocked Indiana's project corn harvest from the top one-quarter of historic yields to the bottom third in just a couple weeks, Hurt said.
"We went from a well-above normal crop with a very good start to a very discouraging well-below normal," he said.