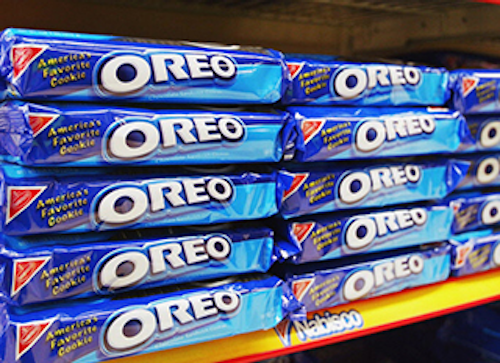 DEERFIELD, Ill. (AP) — A new joint venture involving Mondelez' coffee business sent profit soaring during the third quarter though even with that effects of that deal stripped away, the packaged-food company topped Wall Street expectations.
The company that makes Chips Ahoy cookies, Ritz crackers and other snacks completed the spinoff of its coffee business in April. It gained $7.12 billion on that transaction, the company said Wednesday. Mondelez has a 44 percent stake in the joint venture, called Jacobs Douwe Egberts, and coffee company D.E Master Blenders 1753 has a 56 percent stake.
The Deerfield, Illinois, company reported net income of $7.27 billion, or $4.46 per share, in the quarter, up from $853 million, or 53 cents per share, in the same quarter a year ago.
Earnings, adjusted to remove gains from the spinoff, came to 42 cents per share, which was still 3 cents better than analysts had projected, according to a poll by Zacks Investment Research.
The company has been under pressure from large stakeholders to cut costs and said that over the past nine months, it has taken $259 million in restructuring costs to do that.
Activist investor Nelson Peltz pushed the company to spin off its grocery business and joined the board last year. Bill Ackman's Pershing Square Capital Management disclosed a $5.5 billion stake in the company two months ago.
On Wednesday, the company named Mark Clouse to the newly created position of chief commercial officer, and Tim Cofer as chief growth officer.
"Their strong operating experience in emerging and developed markets, combined with a deep understanding of our categories, will enable us to continue to deliver sustainable, profitable growth and top-tier returns to our shareholders," said Chairman and CEO Irene Rosenfeld.
Mondelez reported revenue of $6.85 billion in the period, which was in line with Wall Street expectations.
The company maintained its outlook for the year, with revenue expected to rise 3 percent. Analysts expected revenue to fall 17 percent, according to FactSet.
Shares of Mondelez International Inc. climbed 28 percent since the beginning of the year. Shares slipped less than 1 percent Wednesday.