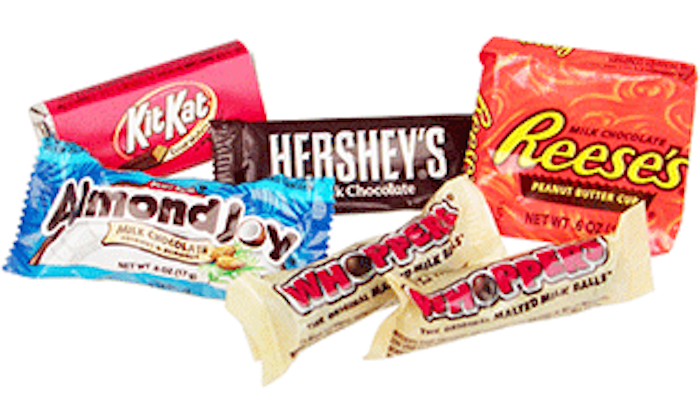 HERSHEY, Pa. (BUSINESS WIRE) —The Hershey Company was recognized for its continuing commitment to environmental stewardship in Newsweek's 2015 Green Rankings. Out of the top 500 U.S. companies named, Hershey placed No. 6, moving up 40 spots from last year's ranking.
"Hershey's commitment to operating sustainably dates back to the early days of the company when our founder, Milton Hershey, first used steam power in the original factory long before the idea of alternative energy became popular," said Leigh Horner, Vice President, Corporate Communications and Corporate Social Responsibility. "Today, more than a century later, our employees live this legacy of caring for the environment, even as we grow into a global company with operations around the world."
Hershey continues to increase its transparency and disclosure of environmental impacts. Over the last several years, the company has reported key environmental sustainability achievements:
Reduced waste by 40 percent and reduced packaging waste by a cumulative 16 million pounds through various company-wide initiatives.
Reduced greenhouse gas emissions in U.S. distribution and logistics by 27 percent.
Introduced Hershey's Miniatures packaging redesign that reduced waste while maintaining packaging quality and food safety.
Achieved zero-waste-to-landfill status at its El Salto, Mexico facility, one of 11 Hershey facilities to achieve this milestone, with 60 percent of its global production occurring at ZWL facilities.
Reduced company-wide water consumption by 70 percent.
To view the complete report and the company's other CSR initiatives, visit Hershey's Shared Goodness website.
About The Hershey Company
The Hershey Company (NYSE: HSY), headquartered in Hershey, Pa., is a global confectionery leader known for bringing goodness to the world through its chocolate, sweets, mints and other great-tasting snacks. Hershey has more than 22,000 employees around the world who work every day to deliver delicious, quality products. The company, which has more than 80 brands around the world that drive over $7.4 billion in annual revenues, includes such iconic brand names as Hershey's, Reese's, Hershey's Kisses, Jolly Rancher, Ice Breakers and Brookside. Hershey is focused on growing its presence in key international markets while continuing to build its competitive advantage in North America. Additionally, Hershey is expanding its portfolio into categories beyond confectionery, finding new ways to bring goodness to people everywhere.