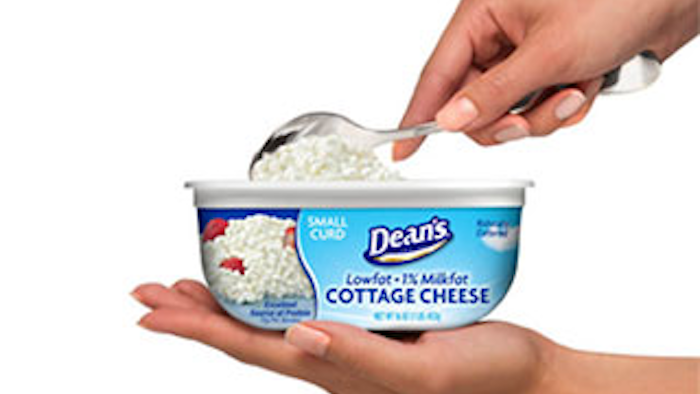 New Dean's product packaging (Photo: Business Wire)
CHICAGO (Business Wire) — Dean's Sour Cream and Cottage Cheese products are currently arriving on retailer shelves throughout the upper Midwest in innovative new packaging. The packaging concept, originally developed and used throughout Europe, provides several consumer benefits.
"The curved bottom profile of these packages allow consumers to easily scoop up every last bit of the product," said Rob Hollandsworth, group vice president of Dean Foods, the parent company of the Dean's brand. "Customers also tell us they love how they stack very well in their crowded refrigerators."
The new packaging also addresses a number of key trade issues. The package structure design results in less negative space between packages; in the case, on the truck and ultimately on the shelf. "All in all, we are delivering a far more environmentally-responsible packaging solution, and one that always has the primary display panel neatly facing the consumer versus the old round-style packages which often ended up spun in different directions," said Hollandsworth.
Consumer research verified that the new packages are convenient for scooping up the product with a spoon, a chip, a vegetable, a cracker, or other ways. It also verified that consumers find the stackability a real benefit. And lastly, the new packaging concept addresses environmental concerns.
"As a supplier to most major retailers throughout the country, Dean Foods accepts its responsibility to deliver products that are friendly to the environment," said Lee Falk, vice president of logistics for Dean Foods. "This new packaging line is completely recycle-able and conforms to almost all sustainability programs."
The launch of the new cultured packaging program will be supported by a comprehensive consumer marketing program including outdoor, radio, in-store activities, public relations, fleet graphics and promotional activities.
Dean Foods is a Dallas, Texas-based food and beverage company that specializes in dairy products. The company maintains plants and distributors throughout the United States.