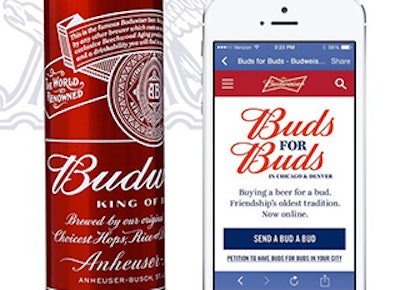 ST. LOUIS (PRNewswire) — Today, thanks to a new pilot from Anheuser-Busch running exclusively on Facebook, adults 21 and older in Denver and Chicago – and soon, the rest of the country – will be able to easily give their friends the best gift of all: beer.
Bud Light Birthday and Buds for Buds debut today, with people on Facebook prompted through posts in their News Feed to gift their friends a free Bud Light to complement their traditional Happy Birthday wishes or buy a Budweiser for friends to celebrate other occasions. In both cases, an online voucher will be sent to the recipient, which they can redeem in-person at a local bar or restaurant upon showing a state-issued ID to verify they are of legal drinking age.
"Beer is the original social network. This new campaign focuses not on a gift certificate or credit, but on bringing people together to celebrate life's most anticipated moments," said Lucas Herscovici, Anheuser-Busch vice president of consumer connections. "Whether you're toasting your birthday, a job promotion, an engagement, or simply the end of a long work week, we want to encourage everyone to bridge the physical and digital worlds by allowing you to send your friend a beer over Facebook."
In recent years, Anheuser-Busch has been a trailblazer in reaching people via digital media. A 2012 study by Facebook and Datalogix found that Bud Light ads reach 20 percent of U.S. households and yield a six-time return on ad spend. Currently, Bud Light reaches 40 million consumers monthly on the platform. This past February, Budweiser's "Puppy Love" was the most shared Super Bowl ad on Facebook, garnering over 1.3 million shares.
The Buds for Buds and Bud Light Birthday pilot programs were developed in partnership with AKQA, Anheuser-Busch's digital innovation agency of record, and Facebook's Creative Shop.
No external application must be downloaded to gift or redeem a Budweiser or Bud Light via Facebook. People who click on the News Feed post will be taken to a customized mobile or desktop experience to send or claim a beer. Gift delivery and fulfillment is powered by Gratafy, whose merchant integration technology platform enables simple in-venue mobile redemption.
For more information or to send a friend a beer, visit Budweiser.com/budsforbuds or BudLight.com/birthday.
About Budweiser
Budweiser, an American-style lager, was introduced in 1876 when company founder Adolphus Busch set out to create the United States' first truly national beer brand – brewed to be universally popular and transcend regional tastes. Each batch of Budweiser follows the same family recipe used by five generations of Busch family brewmasters. Budweiser is a medium-bodied, flavorful, crisp and pure beer with blended layers of premium American and European hop aromas, brewed for the perfect balance of flavor and refreshment. Budweiser is made using time-honored methods including "kraeusening" for natural carbonation and Beechwood aging, which results in unparalleled balance and character. The brand celebrates great times and has used the phrase "Grab Some Buds" in advertising since 2010.
About Bud Light
Introduced in 1982, Bud Light is a premium light lager with a superior drinkability that has made it the best-selling and most popular beer in the United States. Bud Light is brewed using a blend of premium aroma hop varieties, both American-grown and imported, and a combination of barley malts and rice. The light-bodied beer features a fresh, clean and subtle hop aroma, delicate malt sweetness and a crisp finish that delivers the ultimate refreshment. For more information, visit www.BudLight.com.
About Anheuser-Busch
Based in St. Louis, Anheuser-Busch is the leading American brewer, holding a 47.7 percent share of U.S. beer sales to retailers. The company brews Budweiser and Bud Light, two of the world's largest-selling beers. Anheuser-Busch is a major manufacturer of aluminum cans and has been a leading aluminum recycler for more than 30 years. The company is a wholly-owned subsidiary of Anheuser-Busch InBev, the leading global brewer, and continues to operate under the Anheuser-Busch name and logo.  For more information, visit anheuser-busch.com.