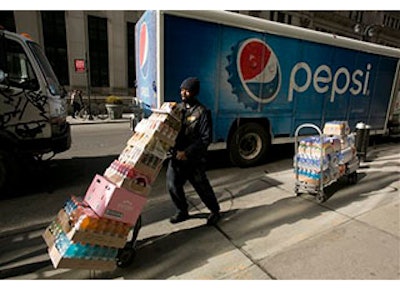 PURCHASE, N.Y. (AP) — PepsiCo's third-quarter profit rose 5 percent thanks in part to strong overseas sales and the company boosted its outlook for the year, sending shares toward an all-time high before the market opened Thursday.
The company has been able to strengthen its pricing to boost gross margins, even with economic growth stagnating overseas.
Revenue for Latin America Foods increased 6 percent, while revenue for Asia, the Middle East and Africa climbed 11 percent.
The world's largest snack maker posted earnings of $2.01 billion, or $1.32 per share, for the period ended Sept. 6. That compares with $1.91 billion, or $1.23 per share, a year earlier.
Excluding one-time items, earnings were $1.36 per share, which was 7 cents better than Wall Street had expected, according to a FactSet survey.
Overall revenue climbed 2 percent to $17.22 billion from $16.91 billion, which was also better than the $17.08 billion that analysts had projected.
PepsiCo now foresees full-year adjusted earnings rising 9 percent. That implies 2014 adjusted earnings of about $4.72 per share. The company's prior guidance was for an 8 percent increase.
Analysts had been projecting full-year earnings of $4.58 per share.
Shares of PepsiCo Inc. rose $1.58 to $95.52 before the market opened. Shares hit an all-time high of $94.21 last month.