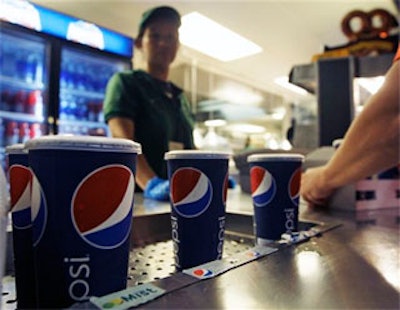 The New York City Board of Health passed a rule Thursday banning sales of large sodas and other sugary drinks in restaurants, delis and movie theaters in the hopes of combating obesity. Here are the rules and the exceptions. They take effect in March.
— WHAT'S BANNED: Sweetened drinks in containers larger than 16 ounces. A range of popular sweetened beverages, including energy drinks, presweetened ice teas and common brands of nondiet soda will be affected.
— EXCEPTIONS: Beverages that are less than 25 calories per 8 ounces, more than 50 percent milk or 100 percent fruit or vegetable juice. Starbucks is pondering whether large Frappuccinos might fall under that exemption, except that it is made with a large amount of blended ice, which probably knocks the milk content down under 50 percent.
— CUP SIZE: Cafeterias and fast-food restaurants with self-serve soda fountains will be prohibited from giving out cups larger than 16 ounces, but people will still be allowed to refill their cup multiple times. Sit-down restaurants will no longer be allowed to serve pitchers of soda to customers.
— WHO'S AFFECTED: Only establishments that receive inspection grades from the health department would have to obey the rules, a group that includes movie theaters and stadium concession stands. Convenience stores, including 7-Eleven and its king-size "Big Gulp" drinks, would be exempt, along with vending machines and some newsstands. Beverages sold in supermarkets or most convenience stores are not affected.
— IN QUESTION: Iced coffee may be problematic. Many cafes now sweeten the beverage with liquefied sugar before handing it over to the customer, often in a giant cup, largely filled with ice cubes. Under the new rules, customers might have to add the sweetener themselves to avoid a violation.
— ENFORCEMENT: Will be carried out by New York City's army of restaurant inspectors. Violations uncovered during those inspections will lead to a $200 fine.