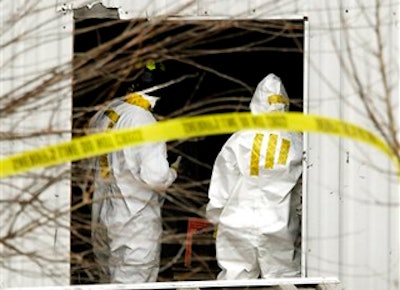 SUMMITTVILLE, Ind. (AP) — A prosecutor said Friday that an Indiana barn where investigators found starving animals living on top of more than 100 rotting carcasses was the worst case of animal cruelty he has seen, while one of the owners maintains that the conditions have been exaggerated.
No charges have been filed against the owners, but Madison County Prosecutor Rodney Cummings said "many counts of animal cruelty are a possibility."
"I've seen a number of animal cruelty cases. I've never seen anything like this before, with a level of volume that's unprecedented," Cummings told The Indianapolis Star.
Cummings said the law gives latitude in how people care for livestock, so some charges may be difficult to prove. Animal neglect is a Class D felony under Indiana law, punishable by up to three years in prison.
Investigators discovered the situation at a barn in Summitville, about 70 miles northeast of Indianapolis, earlier this week after receiving a report about several dead animals. Investigators initially found as many as 100 carcasses, including dead horses, chickens, turkeys, rabbits, cats and dogs, inside the barn. Sheriff's deputies have been burying the carcasses.
Also inside the barn were about 30 living animals who were so malnourished one investigator described them as "walking skeletons."
Authorities say they found more dead animals in a septic tank Wednesday, and Madison County Sheriff's Department Maj. Brian Bell said there was "no telling how man" dead animals were on the farm altogether.
"'Lots' is all I can tell you."
The surviving animals include horses, sheep, chickens, turkeys and rabbits. Some of them have been placed in foster homes, but some are still loose.
Carrie Ault, who owns the farm with her husband, told The Herald Bulletin that the condition of the surviving animals has been "blown way out of proportion" and the media is "over-exaggerating" the situation. Ault did not elaborate.
Maleah Stringer, director of the nonprofit Animal Protection League, disagreed.
"These animals were living, literally living and sleeping on piles of rotting bodies. And no food, no water, nothing," she said. "This is not overblown."
The Aults run an animal auction in Strawtown in Hamilton County and had been working on opening a meat processing plant in Grant County.
Earlier this week, Ault's husband, Daniel Ault, said the deaths weren't preventable. He said some of the animals had died four months ago and he didn't have the equipment to dispose of the carcasses.