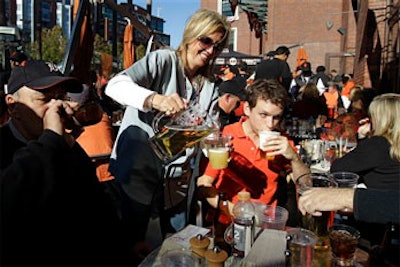 SAN FRANCISCO (AP) — While the Fall Classic between the San Francisco Giants and Detroit Tigers pits clubs from two very different cities, the distinctive style and taste of each team's partisans also pours through the beer taps at their ball yards.
In a trendy, gourmet food-and-drink obsessed place such as San Francisco, a generic "cold beer" at AT&T Park often doesn't cut the mustard as a companion to the stadium's pungent garlic fries or a Caribbean-style concoction called the Cha-Cha Bowl. Revelers can choose between 56 different beers inside the waterfront ballpark.
At Thursday's Game 2, hundreds of Giants fans waited in a long line to get into an adjoining ballpark bar that sells dozens of craft brews ranging from high-octane Belgian Trappist ales to a full suite of city-brewed Anchor Steam concoctions.
John Callaway, 50, stood crammed elbow-to-elbow at the bar with his friend Trisha Cruse, 53, sipping a hand-pumped, English-style cask bitters made special for the ballpark bar, the Public House, by San Francisco brewery Magnolia.
"I just like English bitters, and they are not easy to find, especially in a ballpark," Callaway said, grabbing his filled cup and heading toward the ballpark turnstile in the back of the bar.
At Detroit's Comerica Park, where only a couple of locally made beers are on tap, die-hard Motor City fans are just fine with the unpretentious, established American beer brands.
Detroit is a "blue-collar, domestic beer town" said Bob Thormeier, who oversees food and drink services at the Tigers ballpark. "The younger segment of people are going toward the (craft beer), but a lot of our fans around here grew up on domestic beers. They grew up on your Miller Lites, your Coors Lights, Bud Lights."
San Francisco's craft beer obsession is on full display at the Public House, a ball yard bar on Willie Mays Plaza just outside the stadium's main entrance. The bar boasts 24 taps (that's Mays' retired number), but pours more than 60 different beers, with a focus on local breweries.
"Because San Francisco is such an eclectic city and so diverse, and with all the different foods, people just like selection and they just support local beers," said Sandie Filipiak, AT&T Park's director of concessions. "There's room for a lot, and not every city is that way."
Unlike bars outside other ballparks, the Public House allows fans to take their designer brews directly into the ballpark through the turnstile tucked away in the back. Fans can come back and forth during the game, trying a different ale, cider, porter or stout.
While the more adventurous local ales are being consumed in great quantity, the established brands like Coors and Budweiser still lead sales ballpark-wide, Filipiak said.
Still, sales at the Public House during a game against Cincinnati in the NLDS showed just how diverse baseball fans tastes are becoming, and how many of the locally made brews were embraced.
Of the top 10 sellers there during one Giants-Reds game, six were from relatively small Northern California breweries, with the best seller among those being Russian River Brewing's "Blind Pig IPA," a high-octane, super hoppy beer made in Santa Rosa.
"It's our conscious decision to focus on craft beers and local, interesting products," said Greg Stone, the tavern's beverage manager.
Detroit's ball yard has more than 130 spots where fans can buy beer on a typical game day, and about 120 of them serve American beers that are household names.
While a micro-brewed, chocolate stout served by hand-pump may be a tad too "San Francisco" for Detroit fans, the Tigers' ballpark does not completely leave craft beer aficionados wanting. Those who look can find about 10 places that sell craft beers, including Atwater, which is brewed at a spot across town, and Galesburg, Mich.-made Bell's.
The Tigers' park also continues a long tradition of serving Michigan-produced food.
Fans can buy locally made sausages — Winter's from Detroit — as well as Hudsonville Ice Cream, which is a West Michigan favorite. And the hot dog buns come from a local baker, Brown's Bakery, which has been providing buns at Tigers games since the 1930s.
"And it's very important with the way the economy has been around Michigan and around Detroit to try and keep things local and try and boost the local companies as best we can," said Thormeier.
The Comerica food and drink chief said he's exchanged emails with his counterpart in San Francisco — and they wished each other good luck.
"(The Giants park) was one of the first stadiums to really put in all the craft beers, and a lot of people mimic what (they do) out there," he said.