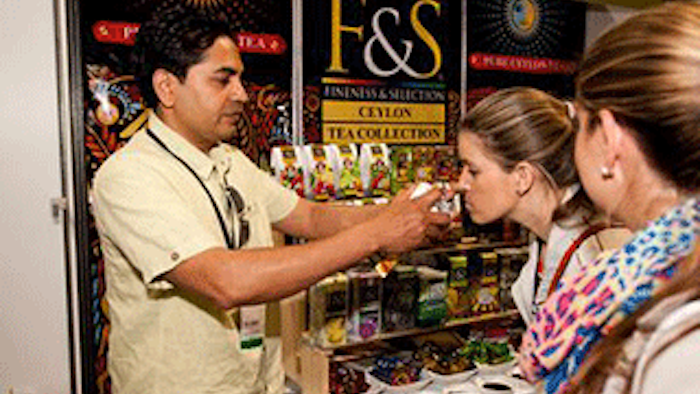 LONG BEACH, Calif. and LAS VEGAS (PRNewswire) — Thousands of professionals celebrated tea and its evolution in the North American marketplace during the 12th annual World Tea Expo ( http://www.worldteaexpo.com ) (#WorldTeaExpo and #WTE14), which took place May 29 -- 31 in Long Beach, Calif. at the Long Beach Convention & Entertainment Center. The event was combined with Healthy Beverage Expo( http://www.healthybeverageexpo.com ) (#HealthyBevExpo or #HBE14), and the co-located business-to-business trade shows attracted more than 4,600 attendees and exhibitors from more than 50 countries.
"The 2014 edition of the World Tea Expo turned out to be a mature affair, culminating from the energy of the organizers, the F+W Media team," said John Chaffey, director of sales for Metropolitan Tea Company, an exhibitor with offices in New York, Canada and the United Kingdom. "We were pleased to experience the quality of the attendees, the informed nature of their questions, and the confidence in the market. When we ran the prospect and other show markers, the numbers pointed to one of the better World Tea Expos in the past seven years."
World Tea Expo featured a bustling exposition floor with more than 200 exhibitors, highlighting the latest innovations, best new products and "what's next" in tea. Delegates tasted new and award-winning teas and participated in three-days of in-depth educational sessions and workshops, covering every aspect of the leaf as well as business development and retail.
Attendee Mary Alice Higbie, founder and owner of The St. James Tea Room in Albuquerque, N.M., said, "It was a beautiful event, beautifully done."
Caroline Kim, associate manager, trade and brand marketing, for Takeya USA Corporation in Huntington Beach, Calif., shared, "Thank you for letting us be a part of such a great expo."
Gail Gastelu, publisher of The Tea House Times, Sparta, N.J., said, "Long Beach proved to be a great location; if you missed it, you missed out."
At the Healthy Beverage Expo side of the event, forward-thinking beverage companies and professionals met face-to-face with key buyers, to create opportunities in the segment. Euromonitor International said health and wellness beverages -- whether categorized as naturally healthy, fortified/functional, better for you or organic -- continue to reach new heights in the U.S. market, eclipsing the U.S. $64 billion mark in 2013.
About The Beverage Group, a division of F+W Media
The Beverage Group, a division of F+W Media, Inc.,( http://www.fwmedia.com ) is an integrated media company dedicated to providing business solutions to the global beverage industry. Events include: Healthy Beverage Expo( http://www.healthybeverageexpo.com ) and World Tea Expo( http://www.worldteaexpo.com ). The Beverage Group also produces the North American Tea Championship( http://www.teachampionship.com ), World Tea Academy( http://www.worldteaacademy.com ) and World Tea News( http://www.worldteanews.com ).