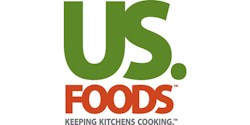 ROSEMONT, Ill. & SCOTTSDALE, Ariz. (BUSINESS WIRE) — US Foods Holding Corp. and Services Group of America on Monday announced that they have entered into a definitive agreement under which US Foods will acquire five operating companies collectively known as SGA's Food Group of Companies, for $1.8 billion in cash. The transaction has been unanimously approved by US Foods' Board of Directors.
Headquartered in Scottsdale, Arizona, SGA's Food Group of Companies has combined 2017 net sales of $3.2 billion and approximately 3,400 employees. SGA's Food Group of Companies currently operates as five separate operating companies:
Food Services of America, Inc. (FSA): One of the largest regional broadline distribution companies in the U.S. serving 16 states in the West and Midwest from nine distribution centers.
Systems Services of America, Inc. (SSA): Multi-unit distribution foodservice company specializing in distribution to casual and fast casual dining establishments and regional and national QSR chains.
Amerifresh, Inc.: Strong produce sourcing and marketing capabilities.
Ameristar Meats, Inc.: Provider of custom meat products, including 18 different beef programs to meet customer specifications.
GAMPAC Express, Inc: Supply chain planning and logistics.
These five operating companies together deliver superior solutions for the diverse customers served by SGA's Food Group of Companies. FSA has a strong focus on serving independent restaurants, which account for approximately 40 percent of its net sales base, and employs a forward-thinking approach to technological leadership to serve customer needs.
"This acquisition will significantly increase US Foods' reach across key markets in the attractive and growing Northwest region of the U.S. and adds one of the most well-regarded regional distributors to our company," commented US Foods Chairman and CEO Pietro Satriano. "With a shared commitment to customer service, including a proven track record of leveraging technology and private brands to meet customer needs, SGA's Food Group of Companies is an ideal fit. The company's unique merchandising programs, mature local sourcing capabilities and track record of operational excellence will be strong additions to our business. We look forward to welcoming the talented teams at SGA's Food Group of Companies to US Foods, providing customers with even better service and expanded capabilities, and delivering accelerated growth and value to our shareholders."
Services Group of America Executive Vice President and COO Slade Stewart said, "For the past 46 years, we have had the vision to become a leading national foodservice company. This is an exciting milestone on our journey and provides more success and growth opportunities for our customers and our Associates."
About US Foods
US Foods is one of America's great food companies and a leading foodservice distributor, partnering with approximately 250,000 restaurants and foodservice operators to help their businesses succeed. With 25,000 employees and more than 60 locations, US Foods provides its customers with a broad and innovative food offering and a comprehensive suite of e-commerce, technology and business solutions. US Foods is headquartered in Rosemont, IL, and generates approximately $24 billion in annual revenue. Visit www.usfoods.com to learn more.
About SGA's Food Group of Companies
SGA's Food Group of Companies is comprised of five businesses providing a broad array of foodservice solutions to a wide spectrum of customers including independent and chain foodservice operators. The businesses are Food Services of America, Systems Services of America, Amerifresh, Ameristar Meats and GAMPAC.