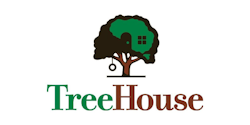 OAK BROOK, Ill., July 18, 2018 (PRNewswire) — TreeHouse Foods, Inc. announced Wednesday that it plans to close its office in Omaha, Nebraska by January 31, 2019. The decision to close the Omaha office is part of the company's previously announced TreeHouse 2020 multi-year restructuring program to reduce its cost structure through simplification and to align the operations with the current and future needs of the business.
"The decision to close the Omaha office was a difficult one, and we are committed to assisting employees through this difficult transition," said Steve Oakland, CEO and President of TreeHouse Foods. "As we streamline our enterprise resource planning systems and near the completion of SAP order-to-cash conversions, it makes a great deal of strategic and financial sense to leverage our shared services capabilities across the company."
The Omaha office closure will affect approximately 200 employees. The related work content will be consolidated into the company's existing facilities in Green Bay, Wisconsin and Oak Brook, Illinois. TreeHouse is committed to a smooth transition and will provide affected employees with separation pay and outplacement assistance.
About TreeHouse Foods
TreeHouse Foods, Inc. is a manufacturer of packaged foods and beverages with a network of over 40 manufacturing facilities across the United States, Canada, and Italy that focuses primarily on private label products for both retail grocery and food away from home customers. We manufacture shelf stable, refrigerated, frozen and fresh products, including beverages and beverage enhancers (single serve beverages, coffees, teas, creamers, powdered beverages, and smoothies); meals (cereal, pasta, macaroni and cheese, and side dishes); retail bakery (refrigerated and frozen dough, cookies, and crackers); condiments (pourable and spoonable dressing, dips, pickles, and sauces) and healthy snacks (nuts, trail mix, bars, dried fruits, and vegetables). We have a comprehensive offering of packaging formats and flavor profiles, and we also offer natural, organic, and preservative free ingredients in many categories. Our strategy is to be the leading supplier of private label food and beverage products by providing the best balance of quality and cost to our customers.