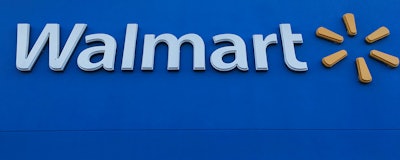 HOUSTON (AP) — Walmart's legal victory allowing it to sell hard liquor in Texas doesn't mean people in the state will be able to go out and buy bottles of vodka and gin at the retail giant's stores anytime soon.
An industry association representing Texas' liquor store operators said Wednesday it will appeal the decision from Austin-based U.S. District Judge Robert Pitman, who found restrictions on liquor sales licenses enforced by the Texas Alcoholic Beverage Commission amounted to unconstitutional discrimination. Pitman issued his 50-page ruling Tuesday, but delayed its implementation until any appeals are resolved, and at least for 60 days.
Walmart already sells beer and wine in Texas, but sued three years ago over restrictions that prevented it from selling distilled spirits. Texas allows privately held businesses — but not publicly held corporations such as Walmart — to own "package stores" where hard liquor is sold. It also gives some retailers unlimited liquor permits, while restricting others to just five.
Bentonville, Arkansas-based Walmart still would have to build separate buildings with their own entrances next to its existing Walmart stores under state restrictions that ban liquor sales at grocery stores. Walmart didn't challenge that ban.
The Texas Package Stores Association, which represents about 2,500 liquor retailers and joined the state in opposing Walmart's lawsuit, said Pitman's ruling was disappointing and overturns laws dating back as far as Prohibition.
"The Texas Legislature put a system in place to ensure safe access to alcoholic beverages in Texas, and that system has worked for over 80 years," the group's CEO, Lance Lively, said Wednesday. "We will appeal the trial court's decision and continue to fight for family-owned liquor store owners against the world's largest corporate entities that seek to inflate their profits by upending sensible state laws that protect both consumers and small businesses."
Texas Alcoholic Beverage Commission spokesman Chris Porter said only that the agency was reviewing the outcome with the Texas attorney general's office.
Walmart applauded the ruling. Restrictions on liquor sales licenses in Texas "prevented us from fully serving our customers," spokeswoman Anne Hatfield said.
"Texas is the only state in the nation that issues package store permits to privately owned corporations, but refuses to let publicly owned corporations participate in the retail liquor market," Hatfield said. "Texas is also the only state that gives certain favored businesses unlimited numbers of package store permits, but limits everyone else to just five permits.
"Walmart filed suit because these laws are unfair and hurt our customers."
Venky Shankar, director of research at the Center for Retailing Studies at Texas A&M University's Mays Business School, said the ruling is an important development in keeping balance between competition and the state's interest in encouraging Texas-owned businesses.
"I think broadly speaking from the consumer point of view, it's good that the consumer has competition," Shankar said. Texas "because it's a big state, it matters. ... Somebody like Walmart is looking to have a very big market."