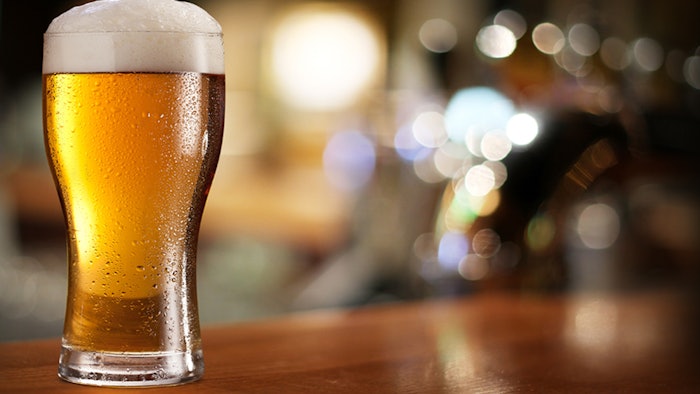 BOULDER, Colo.--(BUSINESS WIRE) — The Brewers Association (BA) — the not-for-profit trade group representing small and independent craft brewers — Wednesday released its annual lists of the top 50 producing craft brewing companies and overall brewing companies in the U.S., based on beer sales volume. Of the top 50 overall brewing companies, 40 were small and independent craft brewing companies.1
"In an increasingly competitive and mature marketplace, these brewing companies continue to lead and pave the path for small and independent craft brewers," said Bart Watson, chief economist, Brewers Association.
A comprehensive State of the Industry report will be delivered during the 2018 Craft Brewers Conference, held from April 30–May 3, 2018 in Nashville, Tennessee. The association's full 2017 industry analysis, which shows regional trends and sales by individual breweries, will be published in the May/June issue of The New Brewer, available in May 2018.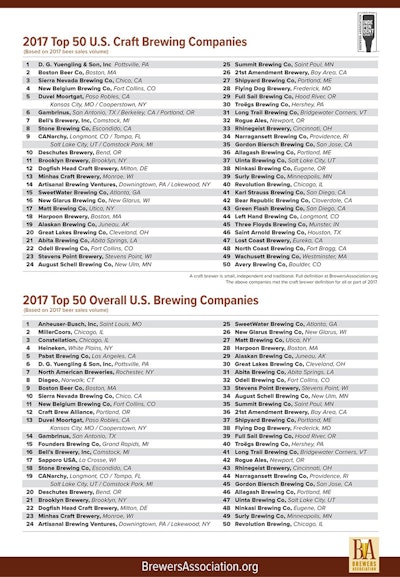 1 Figure based on companies that met craft brewer definition for all or part of 2017. An American craft brewer is small, independent and traditional. Small: Annual production of 6 million barrels of beer or less (approximately 3 percent of U.S. annual sales). Beer production is attributed to the rules of alternating proprietorships. Independent: Less than 25 percent of the craft brewery is owned or controlled (or equivalent economic interest) by an alcoholic beverage industry member that is not itself a craft brewer. Traditional: A brewer that has a majority of its total beverage alcohol volume in beers whose flavor derives from traditional or innovative brewing ingredients and their fermentation. Flavored malt beverages (FMBs) are not considered beers.
About the Brewers Association
The Brewers Association (BA) is the not-for-profit trade association dedicated to small and independent American brewers, their beers and the community of brewing enthusiasts. The BA represents 4,000-plus U.S. breweries. The BA's independent craft brewer seal is a widely adopted symbol that differentiates beers by small and independent craft brewers. The BA organizes events including the World Beer CupSM, Great American Beer Festival®, Craft Brewers Conference & BrewExpo America®, SAVOR℠: An American Craft Beer & Food Experience, Homebrew Con, National Homebrew Competition and American Craft Beer Week®. The BA publishes The New Brewer® magazine, and Brewers Publications® is the leading publisher of brewing literature in the U.S.