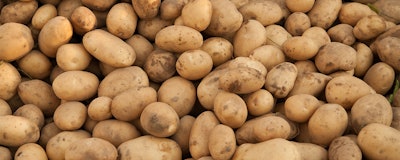 BOISE, Idaho (AP) — Canadian officials say three types of potatoes genetically engineered by an Idaho company to resist the pathogen that caused the Irish potato famine are safe for the environment and safe to eat.
The approval confirmed by Health Canada officials on Thursday means the J.R. Simplot Co. potatoes can be imported, planted and sold in Canada.
The company said it received approval letters from Health Canada and the Canadian Food Inspection Agency in the last several days.
U.S. regulatory agencies approved the same potatoes in February.
The approval by Canada means the two nations can import and export with each other the potatoes that contain a gene resistant to late blight that led to the Irish potato famine.
The company says the potatoes also have reduced bruising and enhanced storage capacity.