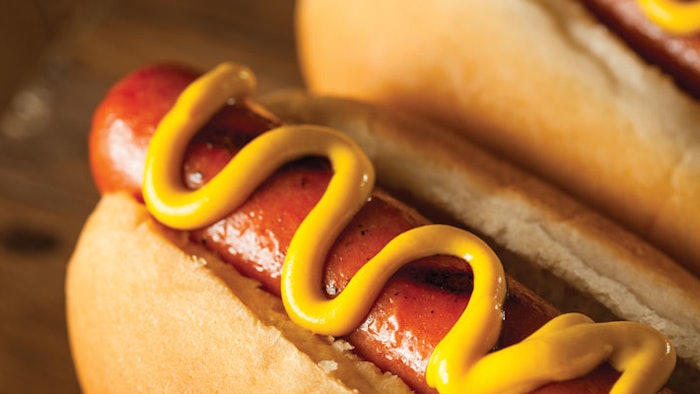 SMITHFIELD, N.C. (AP) — Bright Leaf hot dogs, which have filled buns and bellies in Eastern North Carolina for 75 years, come in a one-pound bag.
That's not the typical hot dog package, but the bag with the tobacco leaf on the front is nearly as iconic as the hot dog itself.
"People would be real upset if we ever changed that," says Johnny Hayes, vice president and plant manager at Carolina Packers, maker of the Bright Leaf brand of hot dog.
Carolina Packers has been making sausages, bologna, chili and red hots, a spicy, bite-size frankfurter, since 1941, but it all began with the Bright Leaf hot dog.
"That launched the other products," Hayes said, noting that the hot dog, found mostly in Eastern North Carolina, is slowly making its way across the Tar Heel State and even into Virginia.
Sports fans can find them at East Carolina University's Dowdy-Ficklen Stadium, Durham Bulls Athletic Park and Five County Stadium, home of the Carolina Mudcats baseball team.
The hot dog is versatile, noted Kent Denning, president of Carolina Packers. They can be grilled, fried, boiled or eaten cold out of the bag — a preferred practice for those looking for a quick bite.
"No matter what else is being thrown on the grill, you know that there's a place for them," Denning said. "Some people like to throw one on just to eat while they're grilling other stuff."
The company of about 100 employees is proud of the quality of its dogs and closely guards the recipe of its slightly peppery, skinless pork and beef dogs.
"Other companies have done things to be more efficient, to make the hot dogs cheaper," Denning said. "We've kept doing things the same way, so we think our product is better. Our quality is better because we take the time to do things the way they've always been done."
Yes, that means adding artificial coloring to give the hot dogs their traditional red color, but the Bright Leaf brand lacks many of the additives and preservatives common in more widespread brands. Because of that, they're sold fresh and don't have a long shelf life.
The Bright Leaf hot dog resides mostly in Eastern North Carolina, but as Down East folks travel farther afield and find themselves in new towns and states, they take their preference for the hot dog with them.
"We ship all over," Hayes said. "We'll pack whatever you ask for and ship it overnight."
As the hot dog celebrates its 75th anniversary, so too does the company. Georgia native John A. Jones was the leader of the business group that launched Carolina Packing Co. in the same year the United States entered the Second World War.
The company included a livestock market for local farmers, many of whom became charter stockholders in the company, Hayes said.
The Bright Leaf brand is a nod to the golden leaf, which once dominated Johnston County's economy. Customers and suppliers of Carolina Packing Co. were dependent on the cash crop, so the company adopted the Bright Leaf name and logo.
Most of the meat in Bright Leaf products still comes from Johnston County farms, and the company has a great appreciation for those mom-and-pop stores that first distributed its products, Denning said.
"We owe so much to those small businesses," Denning said. "That's where it started. We're a fast-growing area now, but we don't want to lose sight of our heritage."
In 1977, Jones' son, Buck, became president Carolina Packers, a post he held until his death in 2005. His wife, Jean, carried the company forward until her death in February. Now longtime employees like Denning and Hayes are at the helm. Denning has worked at Carolina Packers since he was 16.
"We've been in a little transition," Hayes said. "But (Jean Jones) made sure we were taken care of and everything was in order."
"We're going to keep doing what we've always done," Denning said. "We owe that to our customers who have been with us and who have instilled their love for our products in their families."
How do Denning and Hayes prefer their Bright Leaf hot dogs?
"Fried on a steamed bun with mustard, ketchup and chili," Hayes said. "That's the way to do it."