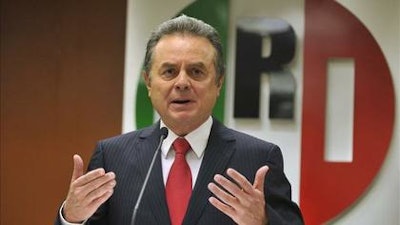 MEXICO CITY (AP) — Mexico's state-owned oil company will retain rights to exploit 83 percent of the country's proven and probable reserves, but could form alliances with private firms in some of those fields.
Petroleos Mexicanos will only get dibs on 21 percent of the country's possible reserves, less than it asked for.
In subsequent rounds of bidding, private firms will vie for rights to explore the 79 percent of remaining fields where reserves are suspected.
Mexico enacted new rules this week allowing private and foreign firms to sign production and profit-sharing deals in the oil, gas and electricity industries.
Energy Secretary Pedro Joaquin Coldwell said Mexico expects to receive about $50 billion in investment over the next three years as a result of the energy opening.