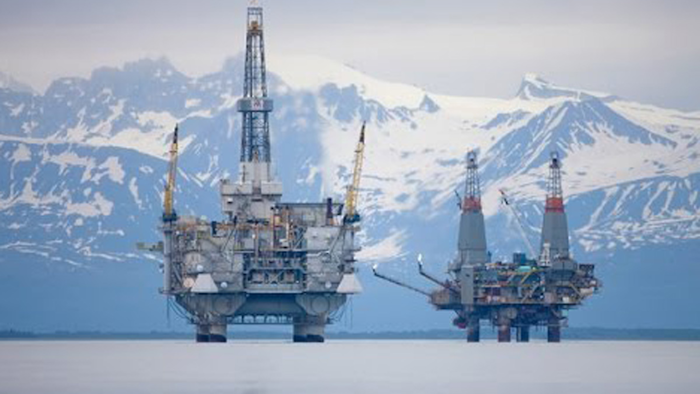 WASHINGTON (AP) — With no new drilling planned in the Arctic waters off Alaska, the Obama administration is setting rules to ensure that any future energy exploration in that area meets safety and environmental standards.
The Interior Department said rules issued Thursday do not authorize any Arctic offshore drilling either now or in the future, but they set minimum standards for operations if and when leasing is approved. A five-year offshoring leasing plan that includes the Arctic is expected later this year.
Assistant Interior Secretary Janice Schneider said the new rules support a "thoughtful and balanced approach" to any oil and gas exploration in the Arctic region.
"The rules help ensure that any exploratory drilling operations in this highly challenging environment will be conducted in a safe and environmentally responsible manner, while protecting the marine, coastal and human environments, and Alaska Natives' cultural traditions," Schneider said.
Royal Dutch Shell announced last year it is ending exploration in the Chukchi and Beaufort seas after spending nearly $7 billion on Arctic exploration. The company cited disappointing results from a well drilled in the Chukchi and the unpredictable federal regulatory environment.
Interior Secretary Sally Jewell later canceled federal petroleum lease sales in U.S. Arctic waters that were scheduled for 2016 and 2017. Current market conditions and low industry interest made the leasing decision easier, Jewell said.
Environmental groups hailed the new safety rules, but said Arctic drilling would harm marine mammals already hurt by a loss of sea ice and exacerbate global warming.
"No amount of safeguards or standards can ever make drilling safe," said Athan Manuel of the Sierra Club.
The National Ocean Industries Association, an industry group, said that despite taking years to write, the new rules do not accurately reflect current industry capabilities and include unnecessary requirements, such as same-season relief wells, that may not be needed.
Requirements imposed by the rule "could thwart industry innovation and development of new technology, and may not actually increase operational safety," NOIA President Randall Luthi said in a statement.