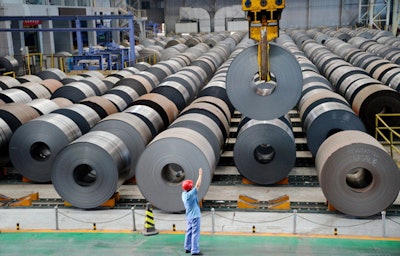 Kobe Steel is pointing to a zealous pursuit of profit, unrealistic targets and an insular corporate culture as the causes of massive faked inspection data at the Japanese metals maker.
The company released a 27-page report Friday of its findings on what led to the scandal and measures to prevent a recurrence.
The scandal surfaced last month when the company, Japan's third-largest steel maker, acknowledged systematic data falsification spanning years that affected products sent to 525 companies, including aluminum castings and copper tubes for autos, aircraft, appliances and trains.
It said safety has been confirmed at 474 companies so far.
Government regulators are also investigating. Kobe Steel is planning to release findings of another report, by third-party officials including lawyers, next month.
One of the mysteries is why the rampant cheating was allowed to continue for so long without ever surfacing or being taken up by management as a problem.
Japan has been rocked by a spate of scandals in recent years at some of the biggest names in Japan Inc.
Japanese automaker Nissan Motor Co. acknowledged recently that it had systematically allowed unqualified workers to carry out last-stage vehicle inspections in violation of Japanese government regulations.
Earlier, major air-bag maker Takata Corp. filed for bankruptcy protection after reporting a defect with its inflators that resulted in some 100 million air bags being recalled globally.
Friday's Kobe Steel report found the company had been intent on doing the work efficiently, but the process for quality controls and back checks was inadequate.
At the same time, workers were under pressure to meet deadlines and to follow excessively stringent regulations, but instead they resorted to cheating because there wasn't enough awareness of the need to follow rules, it said.
The report calls for shaping a corporate culture that values quality controls, not just profit, so the company can try to win back trust from society.
"What is a big problem in this case is that a situation at the plant that was occurring on this scale was never taken up or dealt with properly by management," the report said.