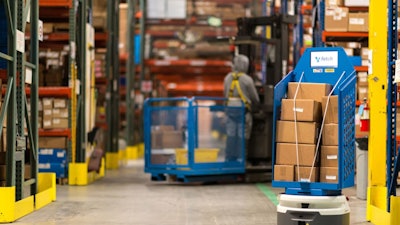 Although robots and automated technology could dramatically impact the human workforce in coming years, for the moment, those systems are too expensive and too cumbersome to completely replace people in most warehouse settings.

Logistics companies looking for a cheaper way to gain a competitive edge, however, could turn to smaller-scale robots that complement its existing staff. The Wall Street Journal this week detailed some of the "collaborative" robots increasingly deployed in the warehouse sector.

Automation systems, the paper noted, can cost millions but still have difficulty with key tasks, such as picking items from a warehouse shelf.

Collaborative robots, meanwhile, can be deployed in virtually any facility and bolster the efficiency of human workers — a critical factor in a tight labor market and with the holiday season looming.
The robots are generally small and feature platforms, touch screens and sensors to navigate through warehouses.

Parcel giant DHL and online fulfillment firm Quiet Logistics deployed robots that help workers identify which items need to be shipped quickly, while RK Logistics Group uses robots to shuffle between the people picking parts off shelves and others who pack and ship them.

The technology is not widespread and, at costs that can reach more than $40,000 per robot, it remains expensive. But as prices come down and more companies see the robots' benefits, analysts said they could quickly be adopted by others.

RK officials, for example, indicated that its robots handle between 30 percent and half the items shipped each day — at twice the speed of a human worker.

"It's not meant to replace human labor, but you can get greater throughput with the same size workforce," IDC Manufacturing Insights analyst John Santagate told the paper.