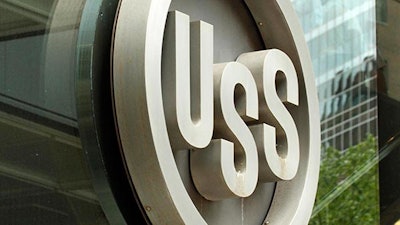 United States Steel Corp. shares jumped more than 9 percent after the steel maker said its second-quarter earnings rebounded from a loss and improved more than $300 million.
The Pittsburgh-based company said it earned $261 million, or $1.48 per share. That compares with a loss of $46 million, or 32 cents per share, a year ago.
Without one-time gains, the company said it would have earned $1.07 per share. That's more than double the 40 cents per share that the eight analysts surveyed by Zacks Investment Research predicted on average.
The company's shares gained more than 9 percent, or $2.28, to sell for $26.72 in after-hours trading Tuesday.
U.S. Steel President and CEO Dave Burritt said the company expects to earn $300 million, or $1.70 per share, this year if market conditions remain similar to today.
"We are focused on our strategic priorities: driving operational excellence across our business — from our plants to our support teams; investing in our facilities through our asset revitalization program; and providing our employees with the resources they need to implement positive, substantive changes," Burritt said.
The steel maker revenue increased 22 percent to $3.14 billion in the period, and also exceeded Street forecasts. Three analysts surveyed by Zacks expected $2.98 billion.
U.S. Steel shares have declined 26 percent since the beginning of the year, while the Standard & Poor's 500 index has risen 11 percent.