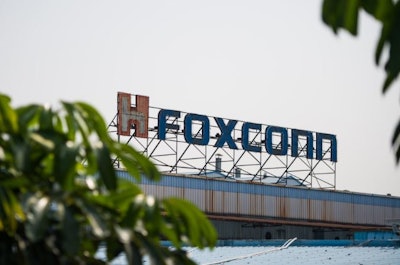 Wisconsin conservationists warned Monday that Gov. Scott Walker's plan to exempt a massive Foxconn electronic plant from key environmental regulations would leave the public in the dark about the plant's impact, jeopardize wetlands and set an alarming precedent.
President Donald Trump announced last week that Wisconsin had won a high-stakes interstate battle for the $10 billion plant. Plans call for building a 20 million-square-foot plant on a 1.56-square-mile campus somewhere in southeastern Wisconsin. The company hasn't selected an exact location but is eyeing sites in Racine and Kenosha counties.
Spurred by Foxconn's promise to create as many as 13,000 jobs, Walker's office released a bill Friday that would hand the company $3 billion worth of incentives. The bill includes provisions that would lift the requirement that state agencies prepare environmental impact statements on plant construction and operations.
The measure also would exempt Foxconn from obtaining state permits for a wide range of activities, including filling wetlands, building on lake or river beds, changing the course of streams, building artificial water bodies that connect to existing waterways and modifying shorelines. The state Department of Natural Resources could choose whether to require Foxconn get permits for bridge and culvert construction.
Midwest Environmental Advocates attorney Sarah Geers said environmental impact statements provide the public with a detailed, wide-lens analysis of a project's impact, enabling builders and government officials to find ways to mitigate the effects. Without such analyses, no one will know what harm the plant might cause.
Foxconn would still need permits to fill federal wetlands. The state exemptions could result in a loss of state wetlands, though, the conservationists said. That could translate to poorer water quality, more flooding and the loss of wildlife habitat around the plant.
What's more, the measure invites other states to gut their environmental laws to attract industry, said John Rumpler, clean water program director for Environment America.
Walker's office referred questions to DNR spokesman James Dick. He said eliminating environmental impact statements will streamline the construction process. Since Foxconn hasn't selected a site yet, no one knows if any wetlands will be affected, he said.
The company would still have to obtain state and federal air, water quality and waste permits, Dick added. Those applications require a public comment period so people would still be able to keep abreast of developments, he said.
The governor signed an agreement with Foxconn on Thursday that calls for the Legislature to approve the incentive package by Sept. 30.
A public hearing on the bill could come this week. Assembly Speaker Robin Vos said last week he would like to have the Legislature vote on the bill in mid to late August. Senate Republican Majority Leader Scott Fitzgerald's spokeswoman Myranda Tanck said no timeline had been set yet for action on the bill.
Sen. Mark Miller, a Monona Democrat who sits on the Senate's natural resources committee, said the bill gives away too much to a company that hasn't delivered on its promises. Foxconn has pledged to build plants around the world and backed out.
"The governor has been suckered once again," Miller said. "He's gone and bet the farm on this one big deal with a company with an unreliable record."
An email sent to Foxconn's general media inbox seeking comment wasn't immediately returned.