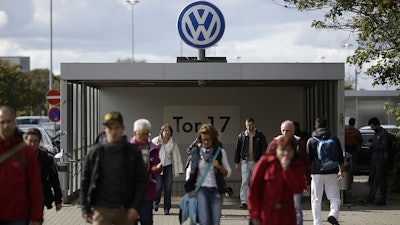 The European Union's anti-fraud office says it has completed an investigation into possible misuse of EU loans by Volkswagen amid the automaker's diesel emissions scandal and sent a recommendation to German prosecutors.
The office, known as OLAF, didn't give details Tuesday of what it told prosecutors in Braunschweig, who are running an ongoing investigation into suspected fraud and other offenses in the scandal over cars that cheated on diesel emissions tests. The scandal erupted nearly two years ago.
OLAF said it recommended that the European Investment Bank "take active steps in implementing their anti-fraud policy" but also said that the loans in question have already been repaid.
OLAF was looking into whether EU money was misused to help produce engines or devices implicated in the manipulation of diesel emissions.