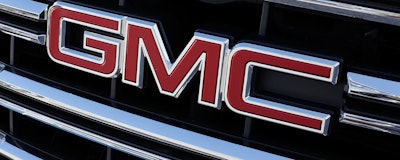 Rising sales of high-profit trucks and SUVs in the U.S. helped push General Motors to a first-quarter profit record as the company put up $2.6 billion in net income.
The company's sales in its most lucrative market were up even though the overall industry was down from January through March. That drove a 34 percent profit increase to $1.70 per share, which shattered Wall Street estimates. Analysts polled by FactSet expected $1.47 per share.
Revenue rose 11 percent to $41.2 billion, also beating estimates of $40.6 billion.
GM made $3.4 billion before taxes in North America, up almost 50 percent, or $1.1 billion, from a year ago. Chief Financial Officer Chuck Stevens attributed $400 million of the increase to better prices, mainly on trucks and SUVs, and $500 million in cost cuts.
GM's U.S. sales rose just under 1 percent in the quarter while the whole industry was down 1.5 percent.
U.S. sales of large truck-based SUVs such as the Chevrolet Tahoe rose nearly 15 percent for the quarter to almost 54,000. Pickup truck and van sales were up 1 percent to 238,000, and sales of smaller SUVs rose 16 percent to nearly 219,000, according to GM.
The market had a favorable but tempered reaction to GM's results. Its shares were up 51 cents, or 1.5 percent to $35.05 in premarket trading. In the past year GM's stock is up about 10 percent.
Stevens said he expects the pickup truck market to remain strong through the year largely because the average age of a U.S. truck is 14 years, far above the overall fleet age of about 11.5 years. Also, gas prices should remain low, and any infrastructure spending that might come from President Donald Trump will increase construction and raise demand for new pickups, he said.
Pretax profits in China also helped GM's bottom line. Although they were down 3 percent, China still contributed $504 million before taxes.
GM lost $200 million in Europe for the quarter because of the falling British Pound due to the country's vote to exit the European Union. That loss won't be a drag next year because the company has a deal to sell unload its European Opel and Vauxhall brands to French carmaker PSA Group for roughly $2.33 billion (2.2 billion euros), retreating from the world's third-largest auto market after almost two decades of futile efforts to make money.
GM favors Trump's proposed corporate tax rate cut, but it won't have much of an effect on the company for the next five years. That's because GM still has $34 billion worth of deferred tax assets and net operating losses largely from before bankruptcy that knock its corporate tax rate to under 10 percent, Stevens said.
Trump's tax plan would slash the corporate rate from 35 percent all the way to 15 percent, a boon to most companies even though many don't pay the full tax now. With tax credits and other loopholes, most corporations pay closer to 20 percent, according to calculations by JPMorgan.
"We are in favor of tax reform. We think it's good for the economy, good for the consumer, good for businesses," Stevens said.