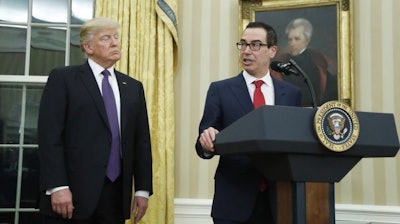 The Trump administration embarked Friday on new efforts to study and possibly dismantle some of the tax and financial regulations established by former President Barack Obama.
President Donald Trump will sign an executive order to review tax regulations set last year by his predecessor, as well as two memos to potentially reconsider major elements of the 2010 Dodd-Frank financial reforms passed in the wake of the Great Recession.
The review of tax regulations could give greater leeway to companies looking to shelter income overseas, or simply seeking to reduce paperwork related to the enforcement of such regulations.
Treasury Secretary Steven Mnuchin said a "significant" issue to be examined will be the crackdown by Obama on inversions, which are mergers that enable U.S. firms to relocate their headquarters overseas where tax rates are lower.
The review could also touch on overlapping rules designed to stop foreign-based companies from shifting their U.S. profits abroad.
Mnuchin said the goal of the executive order is to reduce the burden of time and money from complying with tax regulations. "The tax system is way too complicated and burdensome," he said.
The administration is also trying to pass tax reform that would reduce corporate rates and encourage businesses that have trillions of dollars stowed overseas to bring their profits back to the U.S.
"We're not going to do anything that makes U.S. businesses less competitive," Mnuchin said.
The two memos would focus on possible adjustments to the Dodd-Frank law, which was designed to stop banks from growing "too big to fail" and requiring public bailouts.
One memo will order Mnuchin to review a component of the law that allows federal regulators to liquidate failing financial firms during an economic crisis if those companies are large enough that their collapse would pose a threat to the entire U.S. economy.
The other memo will order the Treasury to review a process that designates which non-bank firms could threaten the financial system if they fail. Critics argue this process is costly and arbitrary.
Both measures will be suspended while they're under review.
Mnuchin said taxpayers won't be left on the hook.
"Let me make it absolutely clear: President Trump is absolutely committed to make sure that taxpayers are not at risk for government bailouts of entities that are too big to fail," he said.
His report will explore if it would be better to liquidate troubled financial firms through a modified form of bankruptcy.
Former Federal Reserve chair Ben Bernanke argued in a February blog post that there is no provision for the government to inject money into a failing firm as was done during the 2008 financial meltdown. This means that all losses would be borne by private investors.
Also, Bernanke said his experience is that financial regulators are often better equipped to respond to these emergencies than bankruptcy judges.
Mnuchin suggested Friday that it might be necessary to update bankruptcy laws to accommodate collapsing firms during an economic crisis.