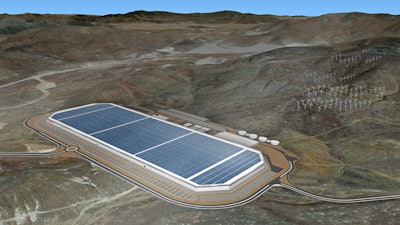 A portion of Tesla's massive Gigafactory outside of Reno was evacuated Monday after a chemical spill on the company's loading docks.
According to Reuters, there was no threat to the public from the spill. The company's decision to clear out part of the building was out of "an abundance of caution."
In a statement issued Monday afternoon, Tesla reported that a 55-gallon drum of a "standard construction cleaning solvent" toppled over on one of the docks. The company didn't expect production to be impacted by the incident.
About nine employees were exposed to the spill and reported adverse symptoms including upset stomach. Tesla reported that the exposed workers were sent to a hospital, but that there were no serious injuries.
Currently about 1,000 full-time employees work at the factory, which is still under construction. Once completed, the facility will crank out lithium-ion battery cells for Tesla's line of energy storage products and cars.