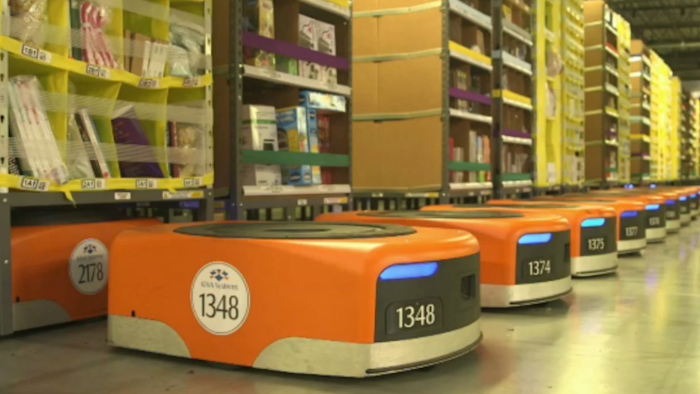 Amazon increased its fleet of warehouse robots by about 50 percent during the past 12-month period, according to recently released data. 
 
The Seattle Times reports that the e-commerce giant utilized 45,000 robots in its distribution centers during the latest holiday season; the company deployed about 30,000 robots in the 2015 season and 15,000 the previous year. 
 
The squat, square-shaped robots were developed by Kiva, a Massachusetts robot maker acquired by Amazon in 2012 and rebranded as Amazon Robotics in 2014. 
The system, guided by a central computer and navigation points in warehouse floors, allows the orange robots to slide underneath shelves and wheel up to 750 pounds of bar code-tracked merchandise to Amazon employees at speeds of up to 5 miles per hour. 
 
The robots reduced Amazon's time from order to shipment by up to 80 percent and improved inventory space by 50 percent. Reports last year said they also helped cut operating expenses by 20 percent and that the Kiva purchase was already paying for itself. 
 
Amazon's rapidly growing distribution operations are also hiring more human workers, but reports suggested that automation is keeping hiring in the warehouse sector down despite increased shipping demands from online shoppers.